NASDAQ 100, also called NAS100 Index is an equity index comprising the most traded non-financial stocks listed on the NASDAQ stock exchange. The Index comprises the largest U.S. companies from various sectors.
Traders in South Africa can trade NASDAQ as a CFD instrument via FSCA-regulated forex brokers. Some brokers offer the NASDAQ Index as US Tech100 on their platforms due to the high number of tech stocks in the index.
By trading CFDs on NASDAQ 100, you are speculating whether NASDAQ will rise or fall. If you believe that it will rise then you can open a 'Buy' position/order, on the other hand, if you believe that the NASDAQ Index will fall in the future, then you can open a 'Sell' position, which is called 'Shorting'. This gives the trader the opportunity for profit when the instrument loses value.
So, based on your bias on NASDAQ you can place a buy or a sell order with a CFD broker. But you must note that you don't actually own the Index or any individual stocks, you are only speculating on its value. It is only advisable for experienced traders.
Show More
Comparison of NASDAQ Brokers in South Africa
| Broker | Regulations | NAS100 Spread (pips) | NAS Symbol | Min. Deposit | Visit |
| --- | --- | --- | --- | --- | --- |
| | FSCA, FCA, CySEC | 2.03 | USA100 | R100 | Visit Broker |
| | FSCA, FSA, FSC, ASIC | 1.93 | USTEC | $100 | Visit Broker |
| | FSCA, FSA, FSC, ASIC | 1.00 | US_TECH100 | R1,750 | Visit Broker |
| | FSCA, FSA, FSC, ASIC | 3 | US100 | $5 | Visit Broker |
| | FSCA, FCA, CySEC | 38.8 (Standard Account) | USTEC | $10 | Visit Broker |
| | FSCA, FSA, FSC, ASIC | 1.9 | NQ | R1,500 | Visit Broker |
Best South African Brokers with NAS100
Here are the best South African Brokers with NAS100 which we have ranked based on our research.
HF Markets – Best NASDAQ 100 Broker in South Africa
Tickmill – SA NAS100 broker with low fees
AvaTrade – Fixed Spread NAS100 broker
XM Broker – NASDAQ CFD broker with no Commission
Exness – NAS100 Broker with local funding
Plus500 – Good Platform for Trading NASDAQ 100
We have listed the CFD brokers that offer NAS100 in SA. We've listed their fees and the trading conditions with each broker.
#1 HF Markets – Best NASDAQ 100 Broker in South Africa
HF Markets was launched in 2010. HF Markets is registered with the FSCA as an FSP (Financial Service Provider) with license number 46632. HF Markets is also registered with other international regulations like CySEC and United Kingdom's FCA.
NASDAQ CFD is available as USA100 (US Tech 100) on HF Markets' platform. For Indices spot contracts on the USA100, HF Markets offers a spread of 2.03 pips and leverage of up to 1:200.
Trading on this brokerage for the NAS100 instrument is available from 1:00 AM to 1:59 pm from Monday to Friday (GMT+2).
HF Markets accepts deposits & withdrawals via local internet banking transfers in South Africa. They also have ZAR base currency accounts available on their platform.
Read our comprehensive HF Markets review for more
HF Markets Pros
Regulated by the FSCA
Low spread for NAS100
Multiple accounts
Fast execution
No deposit and withdrawal charges
Rand-based account
HF Markets Cons
High minimum deposit on some accounts
Customer support is not available 24/7
Charges dormant account fees
#2 Tickmill – SA NAS100 broker with low fees
Tickmill was founded in 2014. Tickmill in South Africa is registered as a Financial Service Provider by the FSCA with FSP number 49464. They are also licensed in the UK by FCA and in Europe by CySEC.
Tickmill offers the NASDAQ CFD instrument as USTEC with a minimum spread of 0.8 pips and a typical spread of 1.93 pips. The leverage for trading CFDs on indices at Tickmill is 1:100.
You can trade USTEC on Tickmill on Mondays to Thursdays from 1:00 AM to 12:00 AM GMT+2, while Friday trading time is 1:00 AM to 11:58 PM GMT+3.
Tickmill also accepts deposits & withdrawals via Bank transfers but they don't have ZAR accounts.
Read our in-depth Tickmill review for more on this broker.
Tickmill Pros
Has FSCA regulation
Low spread for NAS100
Does not charge dormant account fees
Tickmill is a NDD broker
Supports bank transfer in South Africa
Tickmill Cons
Does not have ZAR as Account Currency
Negative balance protection is not guaranteed
Customer support is not available 24/7
#3 AvaTrade – Fixed Spread NAS100 broker
AvaTrade was established in 2006. AvaTrade is registered and regulated by FSCA with FSP number 45984. AvaTrade is also licensed by ASIC and the Central Bank of Ireland.
NAS100 is offered CFD instrument on AvaTrade as US_Tech100 with an average spread of 1 pip over market and maximum leverage of 1:200.
The US_Tech100 is available for trading on AvaTrade from 10:00 PM to 8:59 PM (GMT), Monday to Friday. Their minimum trade lot is one unit and the default currency of the NASDAQ 100 on their platform is the U.S. dollar.
AvaTrade supports local bank transfers in South Africa and OZOW local payment system. You can also open an account with ZAR as the base currency on AvaTrade.
Read more on AvaTrade here.
AvaTrade Pros
Multiple top-tier regulation including the FSCA
Supports multiple platforms
Low spread for NAS100
Negative balance protection
No fees on deposits and withdrawals
Offers ZAR account currency
AvaTrade Cons
Quarterly and annual inactivity fees
Custumer support is not available 24/7
Slow processing of deposits/withdrawals
#4 XM Broker – NASDAQ CFD broker with no Commission
XM was founded in 2009. They are registered with South Africa's FSCA with FSP number 49976. They are also registered with other international financial regulatory authorities such as CySEC and ASIC. Hence, they are considered a moderate-risk platform for traders in South Africa.
XM Broker offers NAS100 as US100 Futures (US Tech 100) with a spread as low as 3 pips and maximum leverage of 1:500. The US100Cash spread starts from 1.1 pips.
US100 is available to be traded on the XM broker platform from 1:05 AM GMT+2 on Monday to 11:55 PM GMT+3 on weekdays. The market closes at 11:50 PM GMT+3 on Friday.
XM offers ZAR as base account currency and supports deposits and withdrawals via local banks in South Africa.
XM Pros
Regulated in South Africa
Supports deposits/withdrawals via local banks
ZAR account is available
Negative balance protection
Low spread on NAS100
Offers free deposits/withdrawals
Customer support is available 24/7
XM Cons
Few tradable instruments available
Charges dormant account fees
#5 Exness – NAS100 Broker with local funding option
Exness forex broker was established in 2008. They are registered and regulated by the FSCA with license number 51024 as a Financial Service Provider. They are also registered and regulated by other top-tier regulators like Cyprus' CySEC and Britain's FCA.
Exness offers CFD on the NAS100 instrument called USTEC (US Tech 100 Index) on their platform. The average spread on the US Tech is 38.8 pip with Standard Account. With Raw Accounts the spread is 10.7 pips, and Pro Accounts have a typical spread of 24.3 pips on US Tech. While Zero Accounts have no spread.
However, their spread is dynamic, so it may be higher depending on the volatility of the market. It can be wider or narrower than the average.
Exness offers maximum leverage of 1:400 for this instrument and is available for trading from Sunday at 11:30 PM to Friday 9:00 PM (GMT+0)
Exness offers deposits & withdrawals via local bank transfers to transfers in SA without any extra fees. And ZAR base currency accounts are available.
For more on this CFD broker, read our Exness Review
Exness Pros
Regulated in South Africa.
Fast support response via live chat.
Has ZAR as base account currency.
Has negative balance protection.
Has 24/7 customer support via live chat.
Accepts deposits/withdrawals via South African banks.
Exness Cons
The typical spread for NAS100 is high compared to other brokers.
Has a limited range of instruments.
Has high leverage.
#6 Plus500 – Good Platform for Trading NASDAQ 100
Plus500 is a trading platform established in 2008. In South Africa, Plus500 is an authorized FSP with the FSCA under license number 47546. The broker is also regulated by other international regulators such as ASIC, and the company is listed on the London Stock Exchange.
Plus500 offers NAS100 futures and CFDs as US-TECH 100 (NQ) with a spread of 1.9 pips and leverage of 1:20.
The US-TECH 100 is available for trading on Plus500 from 10:00 PM to 08:15 (UTC), PM Monday to Friday.
Plus500 offers ZAR account currency and supports deposits and withdrawals via local banks in South Africa.
We covered more on Plus500 in our Plus500 review for South Africa. Refer to it for more details.
Plus500 Pros
Regulated by FSCA in South Africa
No deposit/withdrawal fees
Has ZAR as account currency
No extra commission on trades
Has 24/7 customer support
Offers a wide range of instruments to trade
Plus500 Cons
Does not support MT4, MT5 or EAs
Charges dormant account fees
Slow processing of deposits & withdrawals
What is NASDAQ 100?
The NASDAQ 100 is one of the world's most famous & widely traded large-cap Index with growth stocks. It comprises hundreds of the world's largest companies by market capitalization which are listed on the NASDAQ stock exchange.
NASDAQ is the second-largest stock exchange in the world, and some of the largest tech companies in the world are listed & traded on NASDAQ. This includes the likes of Alphabet, Tesla, Netflix, Meta (Facebook), etc.
The index comprises firms from a diverse range of industries from technology, retail, pharmaceutical/healthcare, etc. Although there is a preponderance of tech companies in the index.
The NASDAQ-100 index (NAS100) was launched in 1985. However, this shouldn't be confused with the NASDAQ stock exchange generally called the NASDAQ composite which was established in 1971.
Cumulatively, the NASDAQ-100 has experienced a growth of over 6000% over a 32-year period since its inception. This can be broken down to approximately 20 percent yearly growth. The NASDAQ 100 index has a total market capitalization of over 15 trillion USD as of 2020, which is the total combined value of the companies listed on the exchange.
What attracts investors seeking to trade major US tech indices to the NASDAQ-100 are:
First, the diversity of industries comprising the index. Almost all the major US Tech companies are weighted in the NASDAQ index.
Second, Over the years, the NASDAQ 100 has experienced growth in terms of the total value of listed companies (market capitalization), Revenues, profits, and dividends. As a matter of fact, this growth is the prime factor luring traders and investors to the NASDAQ 100.
What Does NASDAQ Mean?
NASDAQ is actually an acronym. in expanded form, it means National Association of Securities Dealers Automated Quotations. It was first used in 1971 by the Financial Industry Regulatory Authority (FINRA). FINRA was formerly known as the US National Association of Securities Dealers.
How to Trade NASDAQ 100 or NAS100 in South Africa?
The FSCA regulates and authorizes brokers in South Africa. Most regulated Forex brokers in South Africa offer Contract for Difference (CFDs) on the NASDAQ 100 Index.
The brokers will list the instrument as NAS100 or US100 or USTEC or USA100 or US-TECH 100 on their trading platform & contract specifications.
We will first briefly explain the steps involved in opening the account to trade CFD on NAS100, and then explain what CFDs on NASDAQ are & why it is risky, so only experienced traders should trade it.
For those from South Africa who want to trade NASDAQ with a CFD broker, you need to open a live trading account.
This is done in some simple steps, in which we use HF Markets (formerly HotForex) as an example to open the account.
You will fill in your registration details for opening a Real Account.

On completing that, you'll have to verify your email address. It is required & you cannot proceed to the next step without verifying your email.

Fill in personal information on the form. You will be required to enter info including your Full Name, Address etc. You would also be required to fill up the adequacy test at the broker.

Verify information on personal information form such as address & your Identity. You are required to submit your ID proof & Address proof. Normally, if your documents are in order, then the account is verified in under 48 hours.

Fund your MyHF wallet account. Most SA brokers offer funding via Bank Transfers.

Start trading, and you can open a long or short position on NASDAQ depending on your bias.
Now we will explain what are CFDs on NASDAQ, and why you must be cautious when trading CFDs. Certain risks are involved with trading CFDs on NAS100, which can lead to losses for traders if you are not aware.
Contract for Difference (CFDs) is an agreement between the trader and your broker where the difference in price I.e., the difference between the price during the opening of your trade and closing of the trade is settled as your profit or loss.
Remember, if you are trading CFDs on NASDAQ, you don't own any stocks or the Index, you are only speculating on the trajectory of price movement, based on your bias of whether the NASDAQ price will go up or down.
Let's take an example.
If you think after doing the analysis that NASDAQ would go down, you can place a sell order. If the price does move in your direction, then you will make a profit from your trade. But if the NASDAQ goes up, then you will make a loss on your CFD position.
Another important point to consider is that CFD trades on NAS100 involve the use of margins and leverage.
Most CFD brokers offer margin trading for NASDAQ 100 on their platforms. This leverage provides the traders with the ability to trade a position higher than the funds in your account. So, you can essentially trade a position higher than your own capital.
HF Markets is a regulated CFD broker that offers up to 1:200 leverage on CFDs on Indices, including USA100 CFD (which is NASDAQ) on their platform.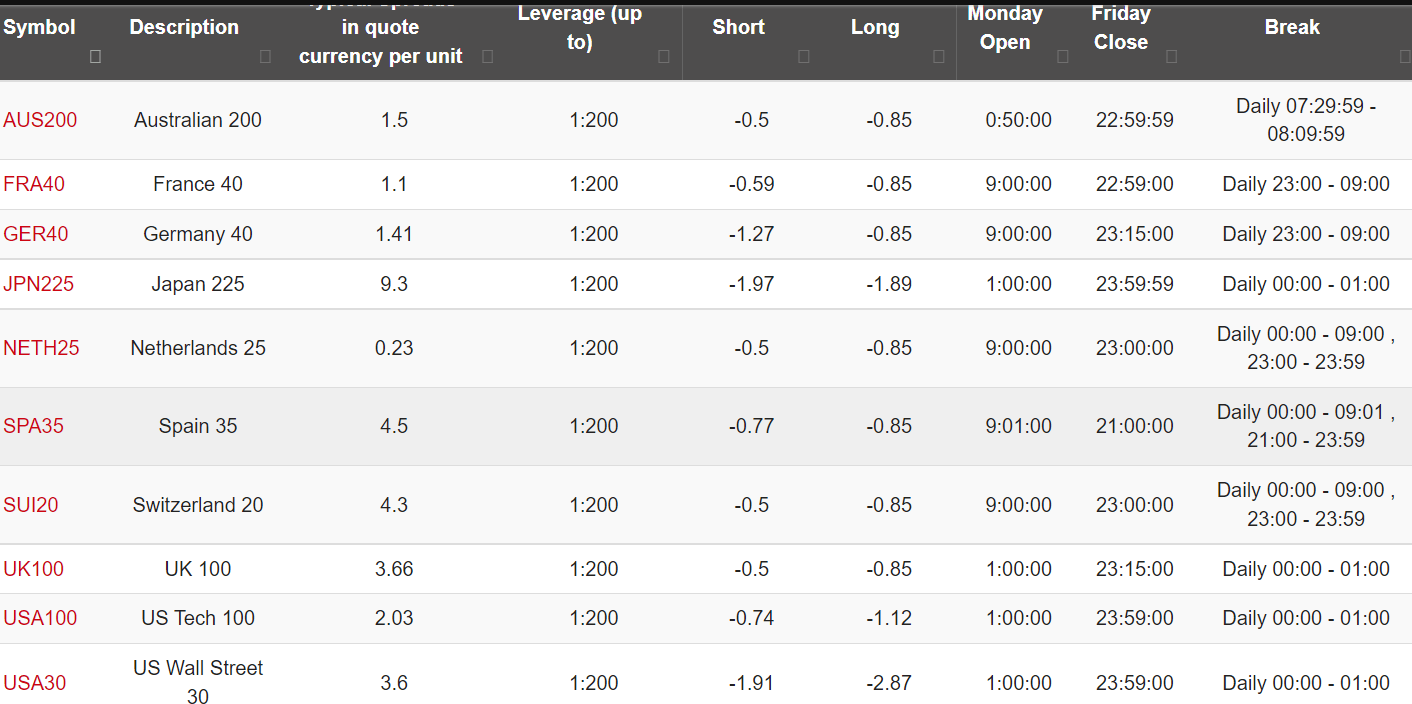 But how does this leverage work? Let's understand it using an example.
If a CFD broker offers a leverage of 1:100 and a trader has $150 funds in the account balance, then at a 1:100 leverage, you can place an order worth $15,000 (which is 100 times the deposit in your account) to place a buy or sell order on the NASDAQ 100 CFD, of almost 1 lot. The CFD trades or contracts on indices are calculated in lots.
If the instrument i.e. NASDAQ, let's say increases by 2% at the end of trading for the day, the trader will make 100 times the amount if you were trading with leverage. The profit is magnified because of leverage.
However, as the leverage tends to boost traders' profit, so it also aggravates a trader's losses if his speculation goes wrong. In fact, it can make a trader lose both capital and profit in a few minutes.
Assuming a broker of any NASDAQ-100 stock offers leverage of 1:5 and a trader uses 20 USD to trade, speculating that Alphabet's stock prices will increase by the end of the trading day.
If at the end of the trading day, Alphabet's stock increased by ten percent. A trader would have made a profit of $2 without leverage in this example. If the trader used the leverage on offer (1:5), the profit would be $10 (which is 5 times $2).
However, if Alphabet's stock price falls by 2 percent against the trader's speculation, he would have not lost just $2 but ten dollars – half of his trading capital with a 1:5 leverage.
As a matter of fact, more than 75-85 percent of retail traders make losses on their trades as per data on FCA regulated CFD brokers in the UK. This figure of the losses for traders is even higher at some CFD brokers, so you must be very careful & have proper knowledge when trading CFDs using leverage.
Due to the risk of leverage, the major regulators have restricted the leverage that brokers can offer on Indices. But SA NAS100 brokers can still offer very high leverage, which is very risky if you use it. So, you must be self-regulated and not use more than 1:5 leverage with CFDs on Indices.
It is very important to fully understand the risks of using excessive leverage as this can result in huge losses for you.
How Much Does it Cost To Trade with Brokers with NAS100?
In trading, you will incur trading and non-trading fees. The combination of the two makes up your total cost. The table below compares the fees with the brokers in this review.
| Brokers | Average Spread (pips) | Commission | Deposit Fee | Withdrwal Fee | Inactivity Fee |
| --- | --- | --- | --- | --- | --- |
| HF Markets* | 2.03 | None | None | None | None |
| Exness | 38.8 | None | None | None | None |
| AvaTrade | 1.0 over market | None | None | None | R750 per month after 3 mnonths |
| XM | 3.0 | None | None | None | $5 after 90 days |
| Tickmill* | 1.93 | None | None | None | None |
| Plus500 | 1.9 | None | None | None | $10 after three months |
* Broker has one or two accounts with commission. However, you will be able to find an account to trade NAS100 commission-free
Other Important Factors to Consider When Choosing a NAS100 Broker
ZAR Account: Most brokers support popular currencies like USD and GBP for forex trading. There some South African brokers who support these currencies and the Rand as well. As you open your account, make sure you confirm if your broker supports a ZAR-based account.
Here is an example from an HF Markets account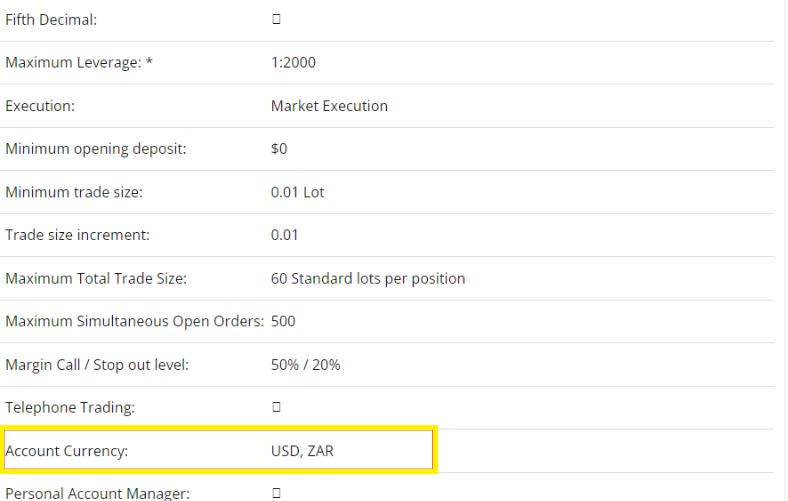 You can see that his account is available is USD and ZAR like we discussed. You can also speak to your broker's customer support to verify if they have a ZAR Account.
Trading Platforms: Choosing the right platform can be very helpful to your trade. NAS100 is available on MT4/MT5 which most brokers support. However, trying your broker's proprietary platform may have its own advantages.
Some forex brokers tend to have lower spreads and advanced trading tools on their proprietary platforms. The only downside is you might have to start learning how the platform works. Ultimately, the choice is yours. But it is good if your broker has different options for trading platforms.
Customer Support: Your broker should be reachable easily. You should be able to find a way to reach your broker from their website. Also, there should be more than one way to contact them. The minimum that should be available is their e-mail address and South African mobile number.
Once you verify this, you can check if they have a live chat feature and WhatsApp chat.
Why Should You Trade NAS100?
NAS100 is one of the most popular index funds. It stands side by side with the S&P 500. NAS100 contains the 100 largest non-financial companies listed on the NASDAQ trading exchange. Essentially, the stocks in NAS100 are tech stocks. This is why the name for it with some brokers is US100 or US TECH.
As of April 2022, the market cap of NAS100 was $16.9 trillion. This means the CFD is very liquid so the spreads will be tight. Apart from this, the high liquidity also makes trading the NAS100 suitable for any type of trader. Day traders can capitalize on quick price movements. Swing traders can also hold their trades for a long period
Common Trading Strategies for NAS100
There are different trading strategies employed by traders for NAS100. Here are the most common ones.
Swing Trading: Swing trading involves holding a trade for a long period. It ranges from a few hours to a few days. This strategy involves the use of indicators that shows when a new trend is about to begin and how long it will last. The Relative Strength Index or the MACD are common indicator used by swing traders. Swing traders tend to incur high swap fees because they hold their trades for many days
Scalping: Scalping involves targeting short-term movements in the price of NAS100. Scalpers can trade up to 50 times a day, entering and exiting trades at short intervals. This strategy can lead to overtrading and the accumulation of commission charges.
Day Trading: This strategy also involves indicators and different technical tools. This strategy only incurs commissions and spreads. No swaps are charged because trades are not held overnight. Rather, they are held for a few minutes to a few hours.
NASDAQ ETF: If you want to trade NAS100 but with low risk, this is a good strategy. Instead of trading NAS100 itself, you can trade ETFs that are connected to it. You can go long or short on them as CFDs. These ETFs hold all NASDAQ shares proportionately. Invesco Nasdaq 100 ETF (QQQM) and the Invesco QQQ (QQQ) are the most common NASDAQ ETFs. Most of the NAS100 brokers in South Africa have at least one of the two.
Note: No strategy is a 100% guaranteed and NAS100 is very volatile. Trade with caution and practice risk management.
FAQs on brokers with NAS100
Which broker has NAS100 in South Africa?
There are many CFD brokers in South Africa that offer trading in NAS100. According to our reviews & research, HF Markets offer NAS100 at low spreads, low commission & no deposit and withdrawal charges. It is important to note that these brokers offer NASDAQ as CFD, so you are only speculating on the price of the NASDAQ index, you don't own any asset.
What is the fees to Trade NASDAQ 100?
Trading fees on NAS100 depend on the CFD broker with which you want to trade. For example, HF Markets broker has an average spread of 2.03 pips for trading NASDAQ 100 CFD 1 contract of 0.1 lots on their platform.
Can you trade NASDAQ from South Africa?
Yes, you can trade NAS100 from in South Africa as CFD via regulated brokers.
Which broker has NASDAQ 100 on MT4?
Brokers that offer NASDAQ 100 and support the MT4 trading application are HF Markets, Exness, XM, AvaTrade, and Tickmill.
What are NAS100 Trading hours in South Africa?
The standard timing for trading NAS100 CFD is from Monday 1:00:00 to Friday 23:59:00. You can trade NASDAQ 100 CFD instruments via your broker between those market hours.