If you are looking to trade forex in South Africa the first thing you might want to do is check for Forex Brokers that are regulated by FSCA (Financial Sector Conduct Authority, South Africa). Then you proceed to register with an FSCA-regulated broker, deposit your money and start trading. If this is all you do, what you can guarantee is the safety of your money.
However, not all FSCA-regulated brokers offer ZAR (South African Rand) accounts. Beyond your money being safe, you should also be able to open an account that has the Rand as its base currency.
Having a ZAR base currency account comes with its advantages. Here are two major advantages: first, you can deposit or withdraw in local currency. Second, you get to save money on conversion fees.
Having said this, it is also important, that your ZAR broker allows electronic funds transfer (EFT). This allows you to deposit or withdraw funds comfortably at low fees.
Show More
Comparison of Forex Brokers with ZAR Accounts
| Forex Broker | Regulations | ZAR Accounts | Minimum ZAR Deposit | Visit |
| --- | --- | --- | --- | --- |
| Exness | FSCA, FCA, CySEC | Yes | R150 | Visit Broker |
| HF Markets | FSCA, FCA, DFSA, CySEC | Yes | R100 | Visit Broker |
| XM Trading | CySEC, FSC Belize | Yes | R70 | Visit Broker |
| Plus500 | FSCA, ASIC, FCA, CySEC | Yes | R1,500 | Visit Broker |
| Trade Nation | FSCA, FCA, ASIC | Yes | No minimum deposit | Visit Broker |
| FxPro | FSCA, CySEC,FCA | Yes | R1,600 | Visit Broker |
Best Forex Brokers with ZAR Accounts
Below is the list & explanation of the Best Forex Brokers In South Africa that offers ZAR Accounts.
Here is a detailed breakdown of fees, regulation & deposits of the ZAR Account brokers in our list.
#1 Exness- Best ZAR account broker in South Africa
Exness is a Forex broker that was founded in 2008 and offers a variety of financial instruments for trading.
Regulation: Exness is regulated with the FSCA as Exness ZA (PTY) Ltd. with Financial Service Provider (FSP) number 51024.
Minimum Deposit in ZAR: The general minimum deposit for cards and bank transfers is $10. The Pro, Zero, and Raw Spread Accounts require a minimum account balance of $200.
Fees: Here is Exness' average spread and commission for trading the USDZAR per account type
| Account Type | STANDARD | PRO | ZERO | RAW SPREAD |
| --- | --- | --- | --- | --- |
| Average Spreads | 194.4 pips | 121.5 pips | 19.1 pips | 93.5 pips |
| Commission Per Lots | N/A | N/A | $24 | $3.5 |
Trading Conditions:
Range of market: If you are trading with Exness, you have access to some Forex & CFDs. Their 99 currency pairs, CFDs on 98 stocks, 35 cryptocurrencies, 4 metals, 10 indices, and 3 energies are all yours to trade.
Leverage: Maximum leverage on Exness is set to 1:2,000 and can vary based on equity. With equity of less than $1,000, you can access unlimited leverage.
Customer Support: You can reach Exness via Email. We had difficulties using the 'send email' button on their website. It worked perfectly when we tried it on an android phone. They also have a live chat feature on their website that is available 24/7 and a physical office in Johannesburg that customers can go to for enquiries.
Local Deposit and Withdrawal via Internet Banking: You can deposit or withdraw your funds electronically. ABSA, Standard Bank, First National Bank, Nedbank, Capitec Bank, and Investec Bank all support internet banking in South Africa. There are no deposit or withdrawal fees when you use internet banking.
You can also deposit electronically through Ozow and SnapScan. The only issue is you cannot withdraw your funds using these platforms. You will have to use MyBux for that.
Exness Pros
Regulated by the FSCA in South Africa
No withdrawal/deposit fees
Supports deposits/withdrawals via South African banks
Has ZAR trading accounts
Does not charge dormant account fees
Has 24/7 live chat support
Exness Cons
USDZAR spreads are high
Little trading education tools
Email response is typically slow
Commissions are charged on some accounts for USDZAR
#2 HF Markets- Good Broker with ZAR account
HF Markets was Established in 2010 and offers brokerage services for trading Forex & CFDs. HF Markets was formerly known as Hotforex
Regulation: HF Markets is regulated by the FSCA and their license number is 46632. South Africans can access HF Markets' website on https://www.hfm.com/za/en
Minimum Deposit in ZAR: Minimum deposit on HF Markets is $5 or R100 for cards and internet banking. The minimum required account balance is R70 or $5 for the Micro Account. The Premium, Zero, and HFCopy Accounts require minimum balances of of R140 ($10), R2,800 ($200), and $100 respectively.
Fees: The swap across all accounts is -$4.35 (R67) for a sell (swap short) position and -$4.75 (R73) for a buy (swap long) position per standard lot.
The typical USDZAR spread for HF Markets on 3 accounts and commission charges are shown below:
| Account Type | PREMIUM | ZERO | Pro |
| --- | --- | --- | --- |
| Average Spreads | 113.6 pips | 79.7 pips | 80.2 pips |
| Commission Per Lots | N/A | $4 | N/A |
Trading Conditions:
Range of Market: You will have access to 53 currency pairs, 6 metals, 4 energies, 54 shares, 23 indices spot and futures, 3 bonds, 5 commodities, 34 ETFs and a whopping 945 DMA stocks.
Leverage: You can leverage up to 1:1000 leverage with HF Markets.
Customer Support: Customer support is fair. They are available 24/5. We experienced a minute holding time using their live chat. Also, it took only 20 mins to get an email response. A local mobile number is also available for calls.
Local Deposit and Withdrawal via Internet Banking: You can deposit/withdraw electronically using banks that offer internet banking. There are also alternative means such as Neteller, Perfect Money, Web Money, and V Load. Minimum deposits for these alternative payment methods vary.
HF Markets Pros
Regulated in South Africa
Overall customer support is good
You can deposit/withdraw electronically
There is a wide range of instruments
No deposit/withdrawal charges
No commissions on most account types
Has ZAR account
HF Markets Cons
Does not have 24/7 customer support
Charges dormant account fee
High spreads fees for USDZAR
#3 XM- ZAR Account Broker without Commission
XM is a Forex and CFDs Broker that launched in 2009 and offers a wide range of trading instruments.
Regulation: XM is regulated by the FSCA with FSP number 49976. South Africans can access XM website on https://www.xmza.com
Minimum deposit in ZAR: Minimum deposit XM is $5 to start trading on all account types except the XM Shares Account which requires a minimum deposit of $10,000.
Fees: XM offers commission-free trading for all account types except the Shares Account. Here is the typical spreads for trading USDZAR with XM Trading
| Account Type | MICRO | STANDARD | XM ULTRA LOW MICRO | XM ULTRA LOW STANDARD |
| --- | --- | --- | --- | --- |
| Average Spreads | 12 pips | 12 pips | 9 pips | 9 pips |
Across the four accounts, a $35.16 (R556.51) swap applies for long positions while a swap for a short position is $11.1 (R175.69) per standard lot.
Trading Conditions:
Range of Market: There is a good range of instruments for you to trade with XM Trading. You get to trade 55 currency pairs, 58 cryptocurrencies, 1,300 stock CFDs, 7 turbo stocks, 8 commodities, 31 equity indices, 5 metals, 8 energies, and 99 shares.
Leverage: XM Trading offers maximum leverage of 1:1,000
Customer Support: Overall customer support is good. They are available 24/5. We got replies within a minute using their live chat feature. Email response arrived after 50 mins.
Local Deposit and Withdrawal via Internet Banking: Multiple electronic payment options are available with XM trading. You can choose anyone once you open your trading account.
XM Trading Pros
Regulated by FSCA
No commissions
User friendly website
Low spreads
They cover your deposit/withdrawal fees.
XM Trading Cons
Charges dormant account fees
Customer support is not available 24/7
#4 Plus500- Good Trading Platform for ZAR Accounts
Plus500 is a Forex Broker that was founded in 2008 and they offer trading services to Forex traders.
Regulation: Plus500 is regulated with the FSCA and their FSP number is 47546. They are also listed on the London Stock Exchange as an FTSE 250 company.
Minimum Deposit in ZAR: Minimum deposit for your trading account here is R1500 if you are using a debit/credit card. The same deposit is required if you are using Skrill or PayPal. R3000 is the minimum deposit for bank transfer.
Fees: Typical spread for USD/ZAR is 114 pips. There are no commissions for trading USDZAR. The fees are in the spread.
Trading Conditions:
Range of Market: 66 currency pairs, 27 indices, 22 commodities, 19 cryptos, 356 options, 97 ETFs, and up to 1,655 stocks are all yours to trade if you choose Plus500.
Leverage: Plus500 offers a maximum leverage of 1:30.
Customer Support: There is 24/5 customer support and a detailed FAQ question. We experienced a 15 minutes holding time when chatting with them on WhatsApp. There is no local mobile number and email response was slow.
Local Deposit and Withdrawal via Internet Banking: You can deposit and withdraw using your credit or debit card. Bank wire transfer is also available. Payment merchants such as Skrill and PayPal are also available. Plus500 does not charge deposit/withdrawal charges.
Plus500 Pros
Regulated by FSCA in South Africa
Has ZAR as account currency
Has 24/7 online customer support
Offers a wide range of instruments to trade
Offers commission-free trading on all accounts
Does not charge any fees for deposits or Withdrawals
Plus500 Cons
Do not support MT4, MT5 or EAs
Charges dormant account fees
Slow processing of deposits & withdrawals
#5 Trade Nation- Reputable Broker with ZAR Account
Trade Nation Ltd. is Forex Broker founded in 2011. They offer CFDs trading services on financial instruments and forex trading.
Regulation: Trade Nation is regulated as Trade Nation Ltd with the FSCA. They are a licensed Financial Service Provider with FSP number 49846.
Minimum Deposit in ZAR: There is no mandatory minimum deposit amount on Trade Nation.
Fees: Typical spread for USD/ZAR on Trade Nation is 20 pips. There are no commissions for trading USDZAR.
Trading Conditions:
Range of Market: 31 indices, 33 currency pairs, 5 commodities, 2 energies, 7 metals, 6 rolling stocks, and 3 bonds are the instruments available on Trade Nation's platforms.
Leverage: Trade Nation offers offers maximum leverage of 1:200.
Customer Support: Overall customer support is good. We had a one-minute holding time chatting with their live agent. Responses arrived quickly. A local mobile number is also available.
Local Deposit and Withdrawal via Internet Banking: You can use deposit/withdraw through bank wire transfer and bank cards or Skrill. Trade Nation does not charge deposit or withdrawal fees.
Trade Nation Pros
Regulated in South Africa
No commission fees on trades
Does not charge dormant account fees
Free deposits and withdrawals
No mandatory minimum deposit
Offers ZAR account currency
Trade Nation Cons
Few trading instruments
Customer support not available 24/7
Does not support MT5
Website might be difficult for a beginner to navigate.
#6 FxPro – ZAR Account Broker with cTrader & Low Fees
FxPro is a Forex and CFDs broker that supports MT4, MT5, cTrader, and their own FxPro Edge trading applications for web, desktop, and mobile devices. FxPro was founded in 2006.
Regulation: FxPro is authorised in South Africa by the FSCA as FxPro Financial Services Ltd with FSP number 45052. FxPro is also regulated in the UK by FCA and in Cyprus by CySEC.
Minimum Deposit in ZAR: The minimum deposit on FxPro is R1,500 with cards, although they recommend a starting investment of $1,000 or R17,000. The broker does not charge any fees for deposits and withdrawals.
Fees: No commission is charged on the FxPro MT4, MT5 & FxPro Edge CFDs accounts, you pay only the spread fees.
On the FxPro cTrader platform, there is a commission fee of $45 for every US$1 million traded upon opening a position and $45 upon closing the position, which applies when trading Forex pairs & Metals.
However, swap fees apply to all accounts if a position is held overnight.
The minimum spread for USDZAR on MT4 is 175 pips with an average of 203.76 pips. They operate a floating spread system and this may change.
Trading Conditions:
Range of Market: FxPro offers Forex trading for 70 currency pairs and CFDs on 21 futures, 19 indices, 2,133 shares, 8 precious metals pairs, and 3 energies.
Leverage: The maximum leverage available on FxPro is 1:200 and applies when you trade USD/ZAR on FxPro.
Customer Support: FxPro offers customer support in several ways—by email, live chat, or international phone number. You can find details on the 'Contact Us' page of their website. Live chat has a quick response time and is available 24/7.
Local Deposit and Withdrawal via Internet Banking: You can deposit and withdraw funds FxPro account via cards, South African local bank transfers, e-wallets, and OZOW. FxPro does not charge deposit or withdrawal fees..
FxPro Pros
Regulated in South Africa
Supports multiple trading platforms
24/7 online customer support
Supports deposits via local banks in SA
Offers ZAR account currency
No deposit or withdrawal fees
FxPro Cons
No local support in SA
High commission fees on cTrader
FxPro website can be hard to navigate
Why Trade Via ZAR Account Forex Broker?
1) Cheaper Fees: Opening a ZAR trading account saves you money on conversion fees. If your trading account is in USD, banks or your broker might charge you conversion fees for the conversion of Rand to your account's base currency like USD. The same applies when you are withdrawing your profit.
Your broker's exchange rate will likely not be fair when compared to the normal market rate. So when you are converting USD to ZAR during withdrawals, you lose some money too. Now, these amounts are negligible but they build up to a substantial amount. This is why opening a ZAR trading account is advantageous.
2) Quicker Deposits and Withdrawals: If a broker has a ZAR account option, chances are you will be able to deposit and withdraw electronically via Bank Transfers. This allows for a quick deposit and withdrawal process since there is no need for the conversion of currencies.
Exness for example, allows South African traders to open a ZAR account and deposit electronically via Internet Banking, Ozow. Deposit processing time is instant. Only the withdrawal takes a maximum of three working days.
Below is the screenshot of the table from Exness's website where you can see the limits & processing time for Internet Banking Deposits & Withdrawals.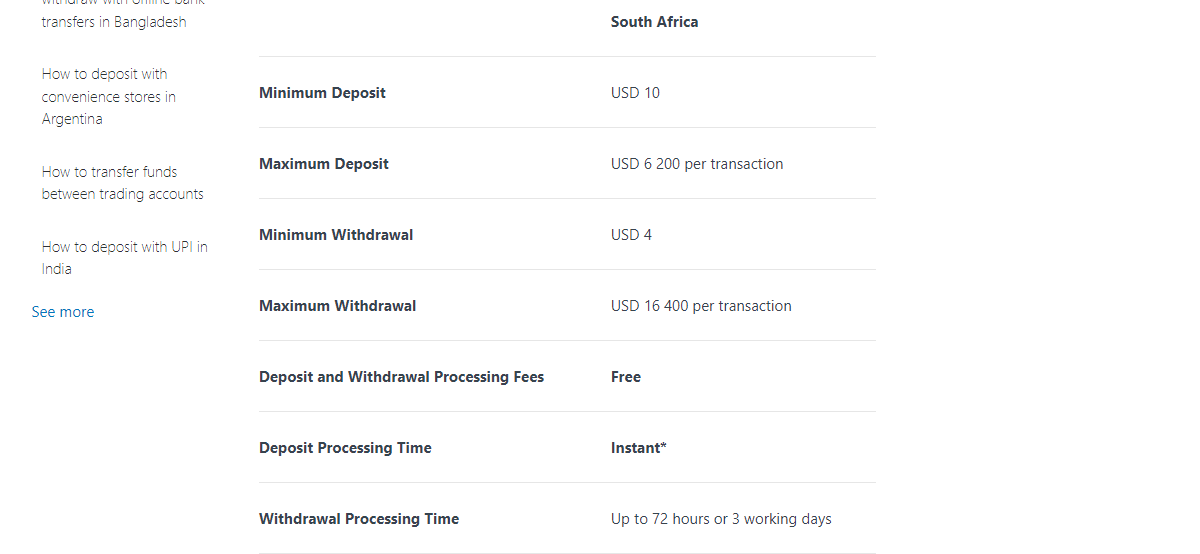 3) Safety of funds: If your broker keeps your deposited funds in South African banks, the law of the land protects your money. The implication is that if your broker goes bankrupt, your funds are likely to be safe. Brokers with a segregated funds policy mostly keep traders' money in an overseas account.
Why You Might Not Want to Open a ZAR Trading Account
This depends on your mostly traded instruments on whether ZAR Account would make sense for you.
This is very important because as a trader, you want to give as little money as possible to your broker in terms of fees. If your most traded instruments are USD quoted like EUR/USD, GBP/USD, NZD/USD, etc., you will have to convert your ZAR to USD every time you trade.
Your broker does this for you automatically on their platform, but with a currency conversion charge with every trade. If your broker charges a commission on conversions I.e. their exchange rates for conversions are higher than actual rates, then that is more money you are giving away.
Realistically, the USD is the most traded currency on the forex market. If there is an instrument you will trade most, and it going to be the USD quoted currency pairs or even USD-based currency pairs, then you should choose USD as your account's base currency.
Since this is the scenario you are likely to find yourself in, you should open a USD account. You will have to convert your ZAR to dollars and vice versa but you will give out less money in conversion fees.
This issue is quite simple but it is the biggest disadvantage to any South African that wants to trade in ZAR.
How to Verify a ZAR Broker's FSCA Regulation
The safety of your funds is not tied to the law of the land alone. You need to be sure that your broker is licensed with the FSCA. The FSCA is the regulator of financial services providers in South Africa. Beyond having a ZAR Account, your chosen broker must be licensed by them.
Here is a systematic way to go about it. We'll be using Exness as our example.
1. Go to your ZAR broker's website and check their footnote to see if they are regulated with the FSCA. Take note of the company name and FSP Number. For Exness, it is Exness ZA(PTY) with FSP nmber 51024

2. Go to the FSCA website to verify these details. Here is the search page below.

Enter the broker's name and FSP number. Click on 'Submit'
3) The initial result you'll get is displayed below.

However, you can see that it is not detailed. If you click on 'Details' on the far left of the result, you will get the full detail of Exness' regulation as displayed below.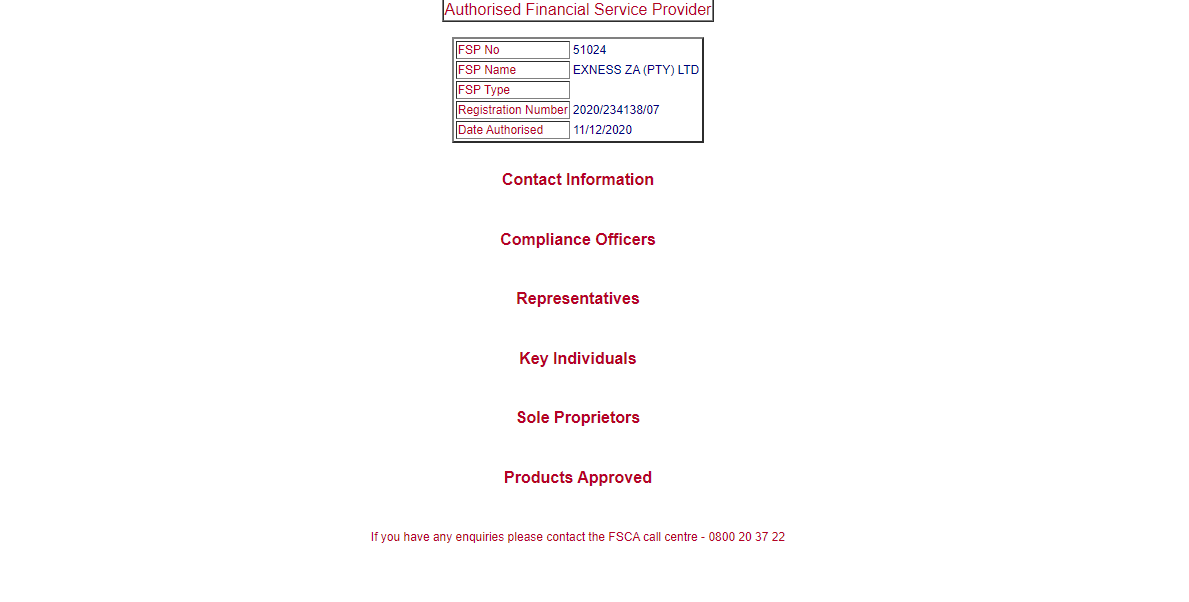 As you can see in the final result, the FSP name and number match the one on Exness; website. You can repeat this step for any ZAR broker to verify their FSP license.
Other Factors to Consider When Choosing a ZAR Account Broker
Apart from FSCA regulation, there are other important factors to consider when choosing a ZAR Account broker. Putting all of these factors together is important for a wholesome trading experience. Here are some of them:
Fees: Opening a ZAR Account gets rid of conversion fees which is a non-trading charges. However, there are other trading fees like spread, commissions, and swaps. Most brokers charge spread and swaps. Commissions might or might not be charged based on account type.
Trading fees affect your final profit or loss. Brokers charge them regardless of your trade result. This is why it is important you check if they are high or low.
Account Type: Most brokers with ZAR Accounts usually offer at least one account. Most of them have more than one. It is important to consider this factor for various reasons. First, there is flexibility in trading costs. Some accounts like ECN-type accounts have low spreads with an extra commission.
Also, there are also accounts with relatively high spreads with zero commission. Furthermore, some brokers might not have an equal distribution of CFDs on all of their accounts. Some accounts might have stock CFDs while some do not. All of these depend on the broker you choose so you have to check.
Let us see how you can go about this. We will use a CFD trading platform with multiple accounts as our example. Most brokers in our review meet up to this standard. However, we will be using XM.
First, go to the South African version of XM's website. On the website, click 'TRADING' (highlighted red), then 'Trading Account Types' (in the red box). Here is an image to help you understand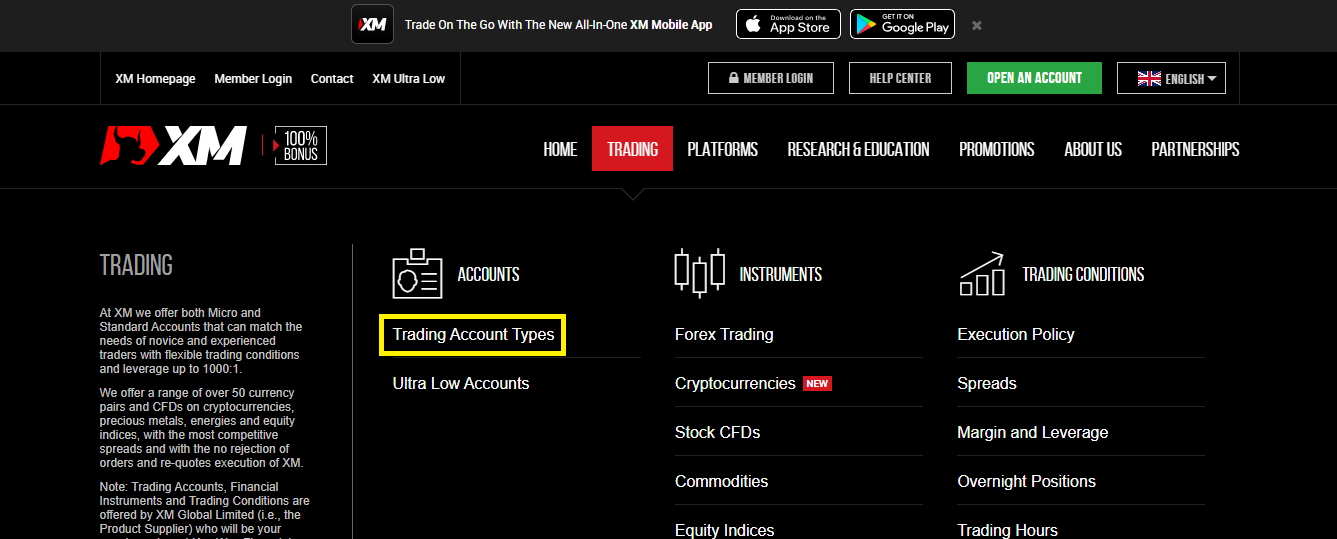 If you do this correctly, you will be taken to another page. Scroll down that page and you will see XM's account types as shown below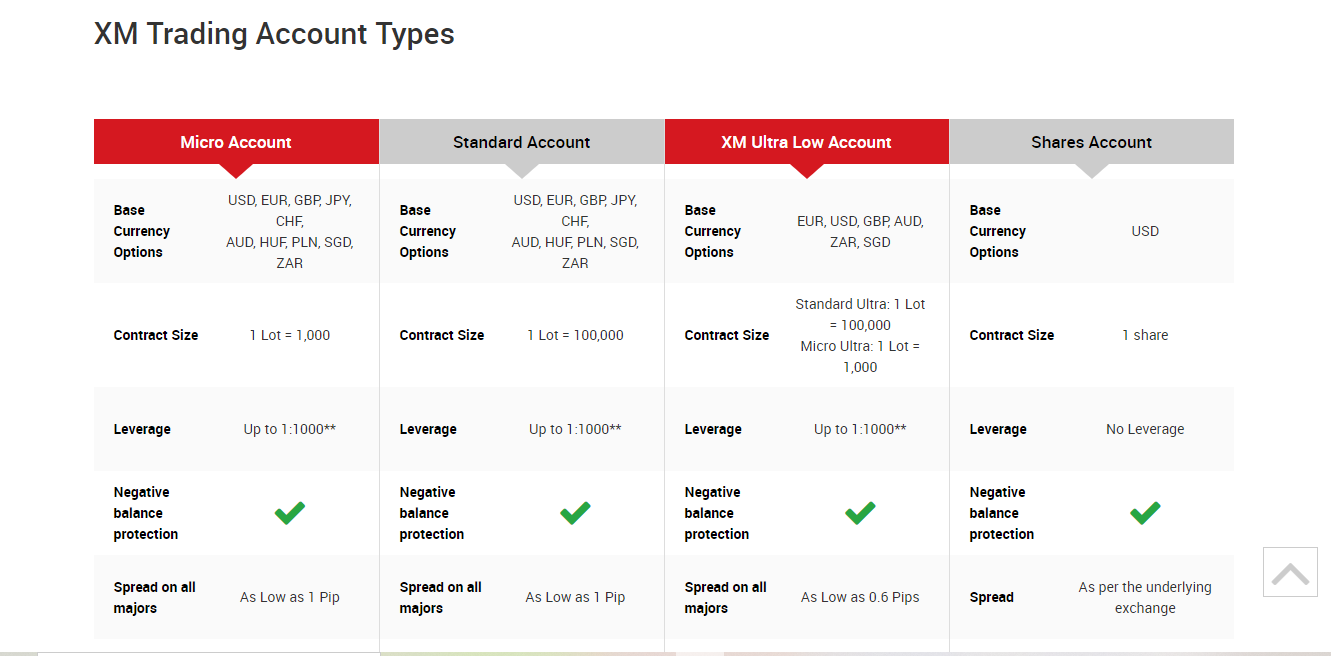 From the image, you can see the differences in the trading account types. For example, the XM Ultra Low Account has spreads beginning from 0.6 pips. The other accounts have spreads beginning from 1 pip. This means the spread cost is higher on the latter.
Can you see why it is important to compare different accounts?
CFDs available: Having a ZAR Account is not beneficial if your preferred CFDs are not available. You need to go through your broker's website to see the classes of CFDs they offer and their number. NAS100 is one of the most popular CFDs traded in South Africa. You want to make sure it is available among other alternatives like currency pairs, shares CFDs, precious metals, and cryptocurrencies.
Here is how you can check the CFDs available with your ZAR Account broker. We will use HF Markets as our example broker. It all begins at their homepage. If you click 'PRODUCTS' as shown below, you will see their range of markets.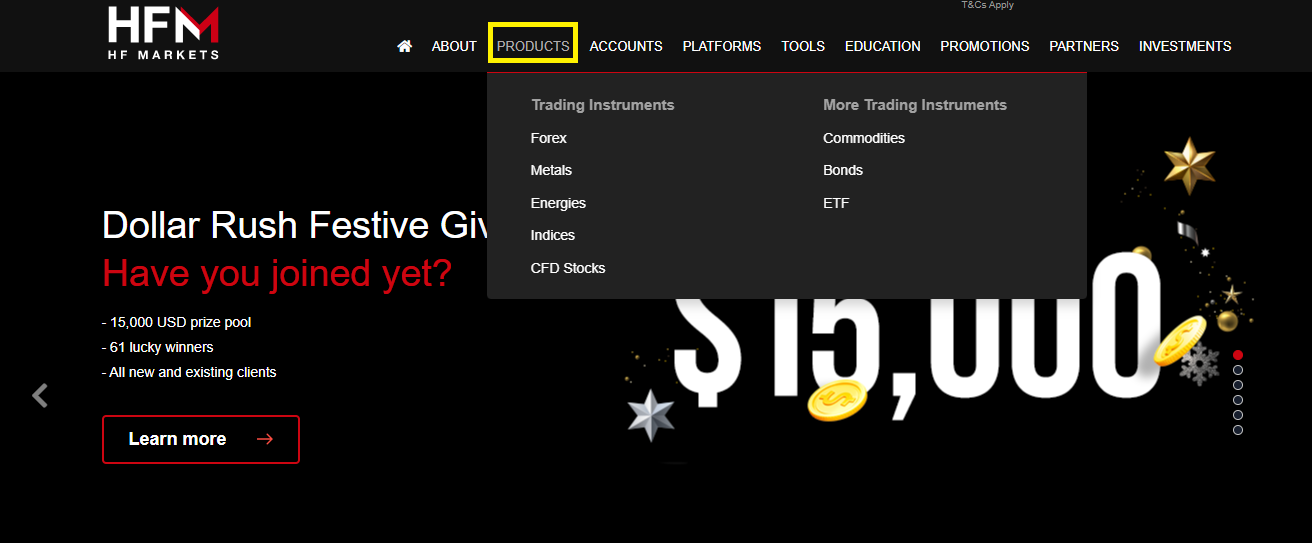 You can see from the image that HF Markets have forex, metals, energies, indices, CFD stocks, commodities, bonds, and ETFs. For intricate details on each range, click on the range you want to check. If you click indices, for example, you will see more details like spreads, leverage, and trading hours.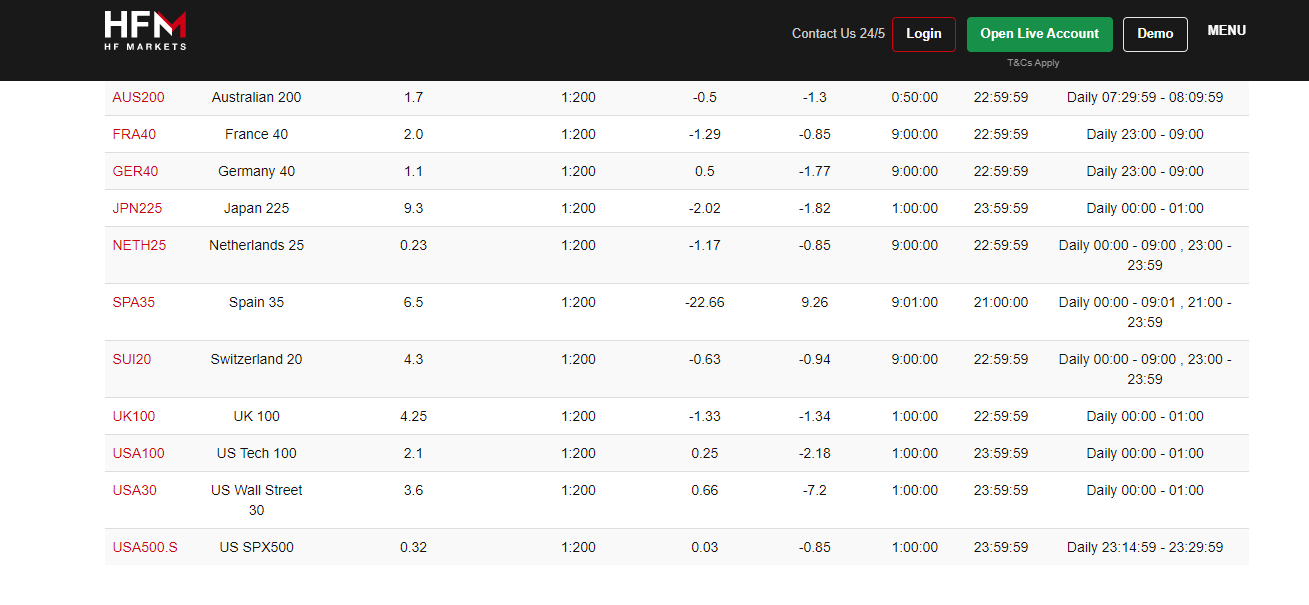 Execution: Forex brokers offer instant execution or market execution. With instant execution, your trade is executed at your specified price. On the other hand, your trades are executed at the best available price with market execution.
This can be to your disadvantage because you are at the risk of price of re-quotes with market execution. The new price might be favorable and it might not. So don't focus on a broker's ZAR account alone. Check the kind of execution they offer.
Deposits/Withdrawals: This is another important factor. The key deposit/withdrawal channel for this review is internet banking or EFT. Most ZAR Account brokers allow this but you still have to check. Other than availability, you also want to check how long it takes to process payment. Typically, deposits are instant while withdrawals can take 2-3 days.
Trading Platforms: Most brokers will have MT4 or MT5. They are the most popular trading platforms globally. However, you cannot place a withdrawal from them directly. So you need to watch out for a ZAR Account broker with a proprietary trading platform.
Proprietary trading platforms are usually a combination of trading and other services like customer support, funding, and withdrawals. This is common with proprietary mobile apps. You can trade on the go and withdraw your profits without going to the broker's website.
Support: CFD Brokers have a various support means. The FAQ is the most accessible. After this is the live chat and the e-mail. Any inquiry that the FAQ cannot resolve can be handled via the other two. Since you will be contacting customer service directly, it is important to test their live chat and e-mail. You want to know if they give relevant answers to your question in a timely fashion.
You should also check if they have a ZA phone number. Being able to make phone calls to your broker. locally can be very helpful.
How to Open an Account with ZAR Account Broker?
If you're ready to start trading Forex and CFDs, you can follow these steps to open a trading account with ZAR. We'll use Exness for the example:
Step 1: Visit the Exness website at exness.com and click on the yellow 'Open account' button.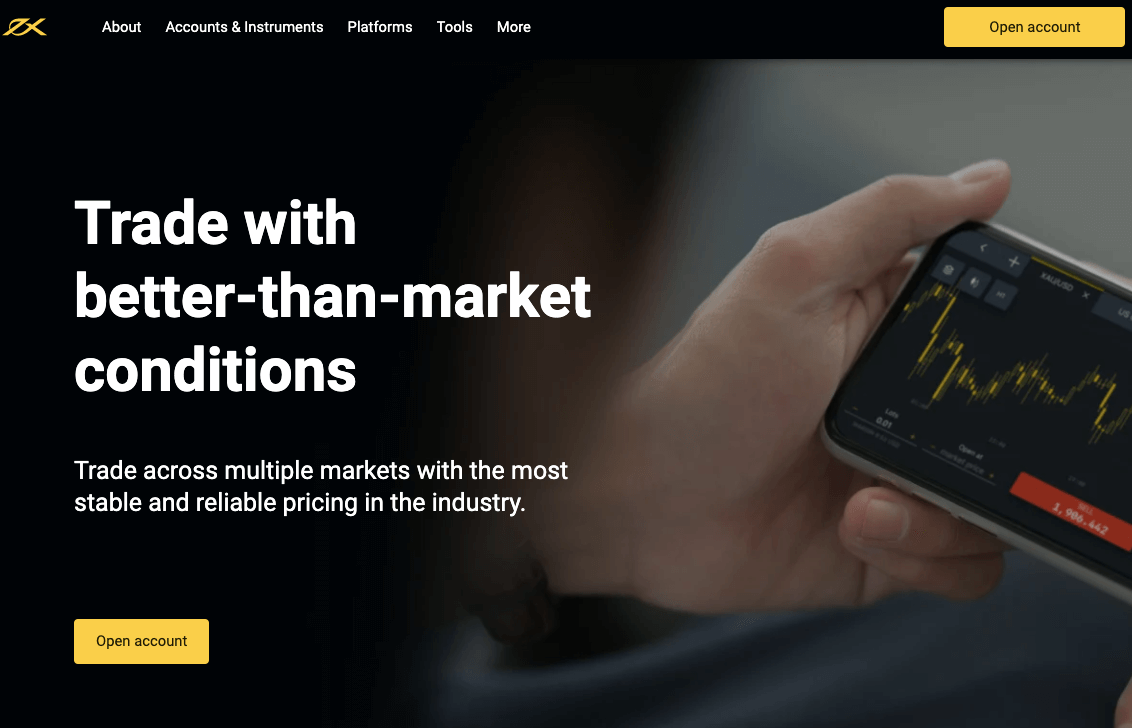 Step 2: Select your country (South Africa), input your email and create a password on the form that is opened then click continue.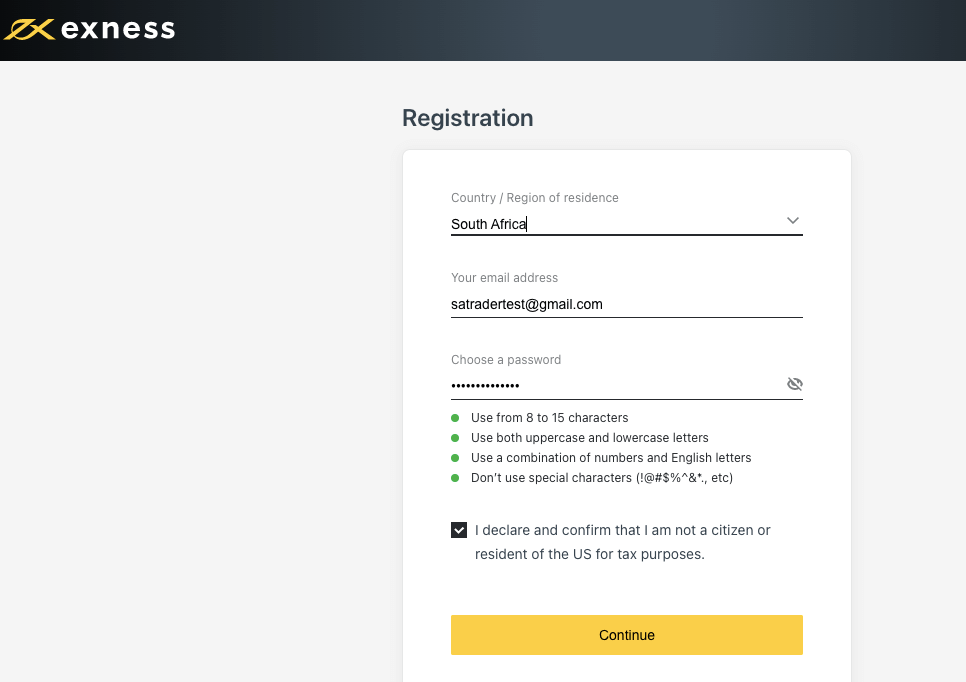 Step 3: You will be prompted to choose between a demo account or a real account. Select 'Real Account.'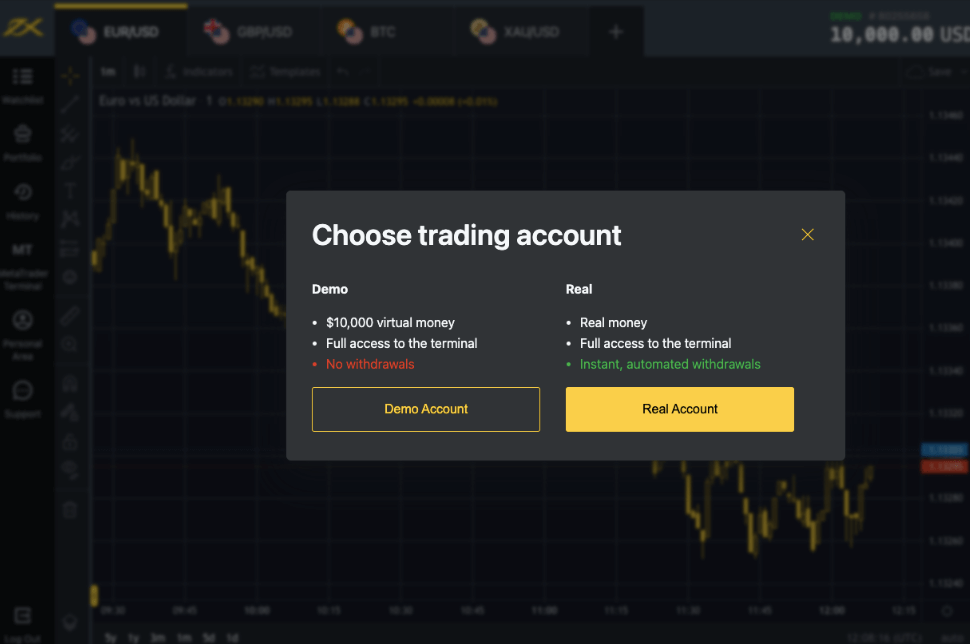 Step 4: You will then be brought to your Personal Area page, which is your dashboard and shows the menu of deposits, withdrawals, history, and others.
Click on the yellow 'Open New Account' button to create a trading account.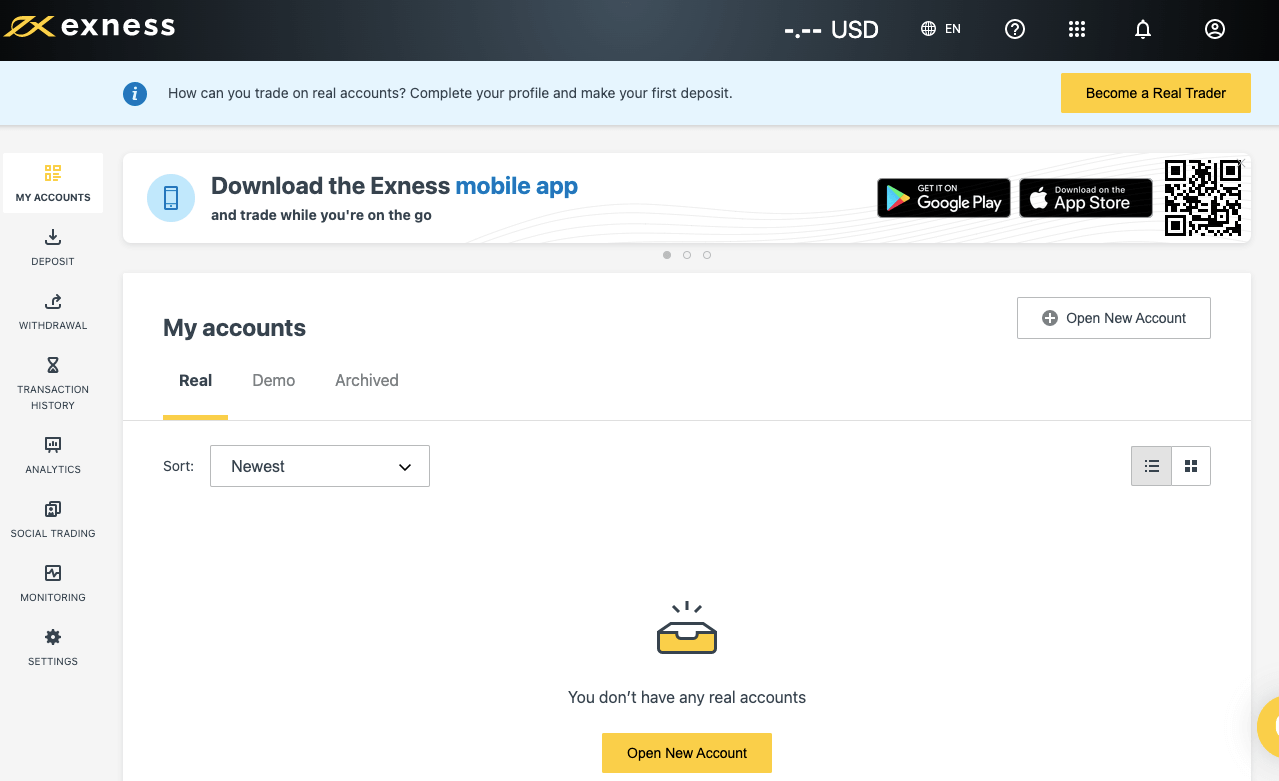 Step 5: Next, you are to select an account type. Based on the different features of each account, decide on the account type that you want and click 'Open Real Account'.
Step 6: Then, select whether you want to use the MT4 or MT5 trading platform, the leverage limit you want, a nickname for the account, and select ZAR – South African Rand as currency for the account.
Create a password for the account and click on 'Create an Account'.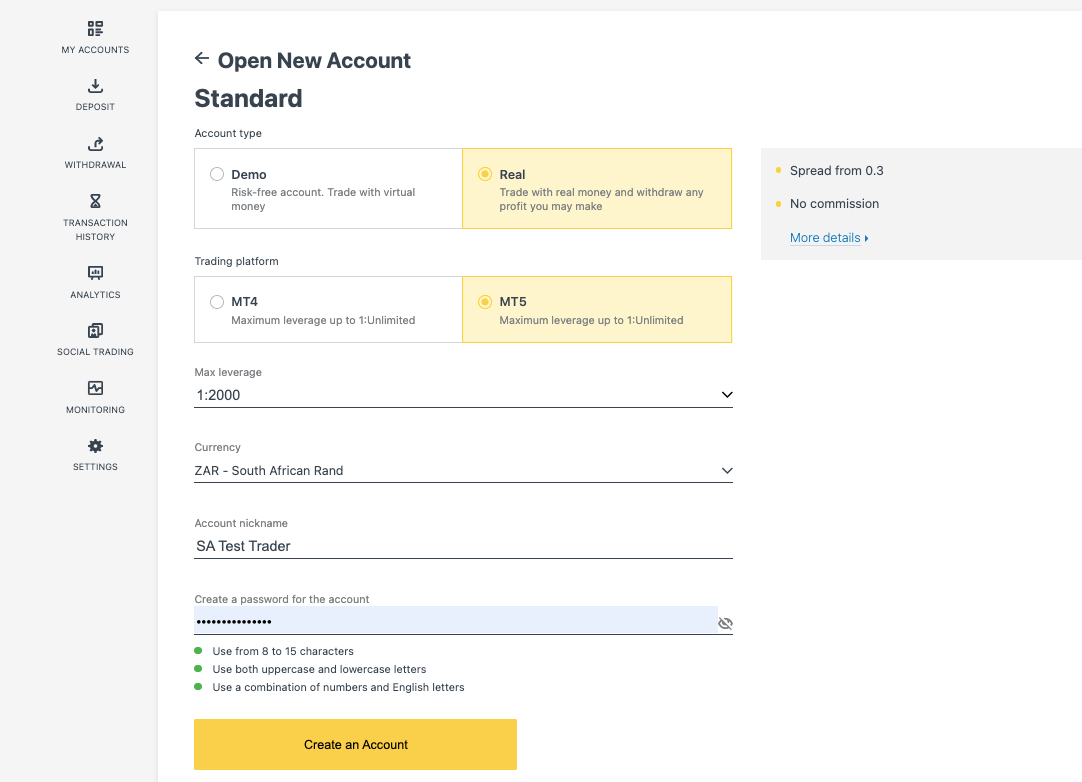 Step 7: Once you have completed the steps above, you can find your new trading account in the 'My Accounts' menu on your Personal Area, which you can access when you log in to the Exness platform from their homepage.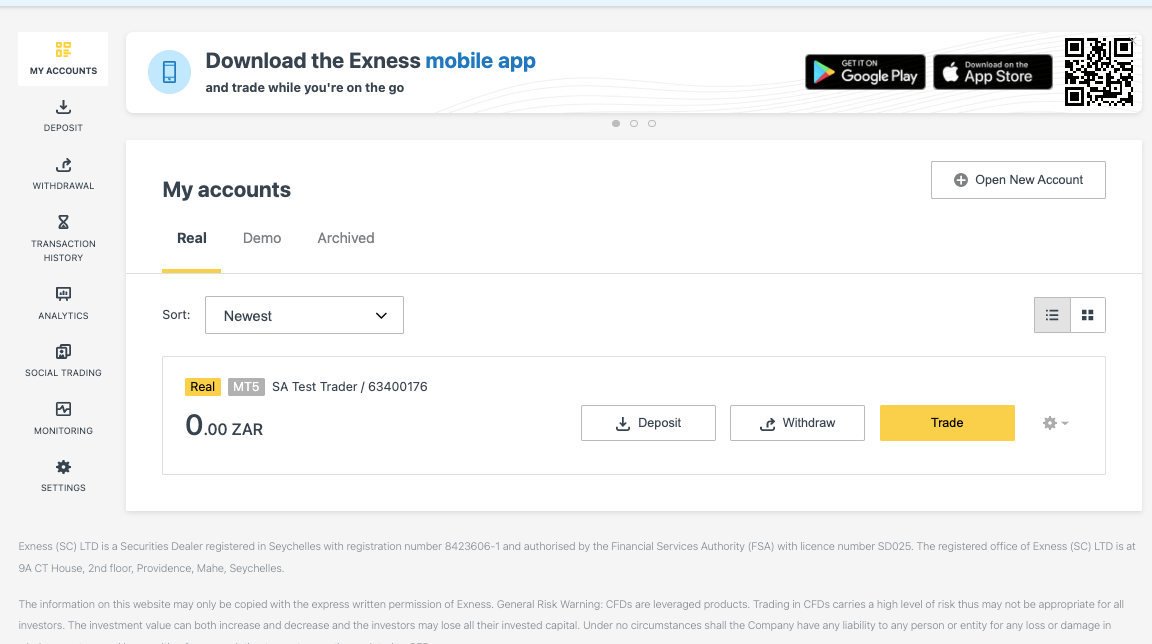 After following the steps in the example, you can open a ZAR account and you can start trading. The steps at other brokers like HF Markets and XM are generally similar.
FAQs on ZAR Accounts Forex Brokers
Which Forex Brokers offer ZAR Accounts?
In South Africa there are over 10 Forex Brokers that offer ZAR accounts. But based on our research below listed brokers offers ZAR account to traders with good trading conditions:
1) Exness
2) HF Markets
3) XM Trading.
4) Plus500.
Which ZAR Account Broker has the lowest fees?
Exness broker is the best in terms of low fees. They offer spreads starting from 0.3 pips on EUR/USD currency pair with no deposit & withdrawal charges.
Is it better to trade in USD or ZAR?
A USD account has no advantage over the ZAR account. With a ZAR account, there is no currency conversion fees. You might even get to trade smaller values per pip. Although it is important to note that if the instruments you will be trading are mostly quoted in USD, then it is better to open a USD account currency to also avoid conversion fees.
Where can I trade with R100?
You can trade with R100 on HF Markets and XM Trading, as their required minimum deposit is R100 and R70 respectively. The minimum required trade volume is 0.01 lots.
Does XM Offer ZAR Account?
Yes. XM Trading offer ZAR account for their South African Traders. Their spread star from 0.6 pips with a minimum deposit of $5 with no conversion fees.