Plus500 is a CFDs broker that provides an online trading platform for individuals to trade Forex and CFDs on indices, options, commodities, ETFs, shares, and cryptocurrencies.
Plus500 was launched in 2008 and is authorized by the FSCA to provide financial services in South Africa.
In this review, we will look at safety, trading conditions, fees, tradable instruments, and customer support at Plus500.
Plus500 Review Summary
Broker Name
Plus500 South Africa
Establishment Date
2008
Website
www.plus500.com/en-za
Address
Plus500AU Pty Ltd, P.O. Box H339, Australia Square | Sydney NSW 1215, Australia.
Minimum Deposit
R1,500
Maximum Leverage
1:30
Regulation
FSCA, FCA, ASIC, CySEC, FSA Seychelles, MAS
Trading Platforms
Plus500 Trader for PC, Mac, Web, Android, & iOS
Visit Plus500
Plus500 Pros
Regulated by FSCA in South Africa
Has ZAR as account currency
Has 24/7 online customer support
Offers negative balance protection
Offers a wide range of instruments to trade
Plus500 is listed on the London Stock Exchange
Offers commission-free trading on all accounts
Does not charge any fees for deposits or Withdrawals
Plus500 Cons
No phone support
Has no bonus offerings
Do not support MT4, MT5 or EAs
Charges dormant account fees
Slow processing of deposits & withdrawals
Is Plus500 Safe for Traders?
Plus500 is considered safe for traders, has low risks, and is highly trusted. This is because of their high level of regulation: they are regulated in multiple jurisdictions by Top-Tier regulations.
Plus500 Ltd is the parent company of Plus500. Registered in Israel, Plus500 Ltd has subsidiaries in the UK, Europe, Asia, and Africa.
Plus500 Ltd is a publicly listed company on the London Stock Exchange since 2018. The company's subsidiaries and their main regulatory bodies are listed below.
1) Financial Sector Conduct Authority (FSCA) in South Africa: Plus500AU Pty Ltd. is authorized by the FSCA to offer financial services in South Africa with FSP No 47546, issued in 2017.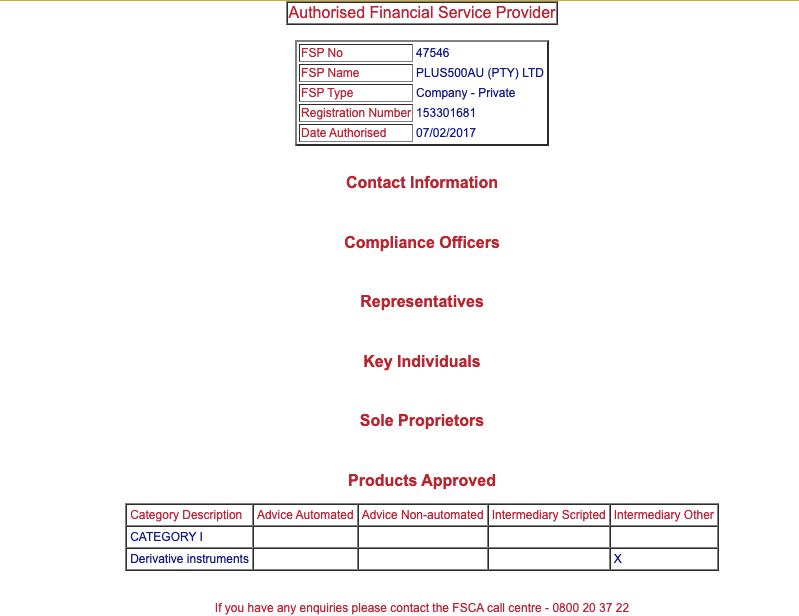 2) Financial Conduct Authority (FCA), United Kingdom: Plus500 is regulated in the UK as Plus500UK Ltd since 2010. The company is authorized to provide investment services in CFDs (Contracts for Differences) trading by the FCA, Reference No. 509909.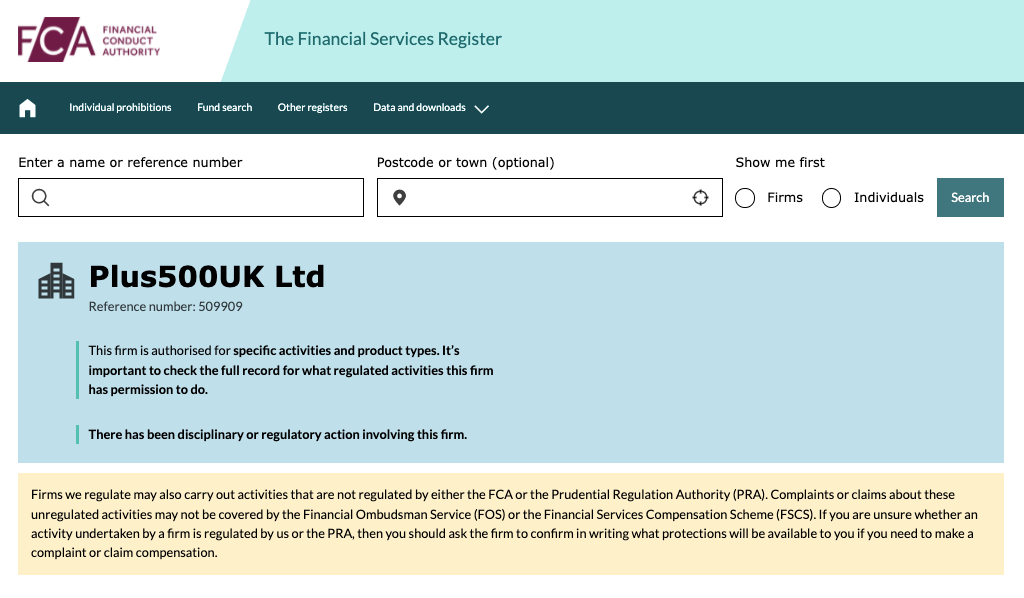 3) Australian Securities & Investments Commission (ASIC): Plus500 is regulated by ASIC as Plus500AU Pty Ltd. The company registered in 2011 with ACN (Australian Company Number) 153 301 681.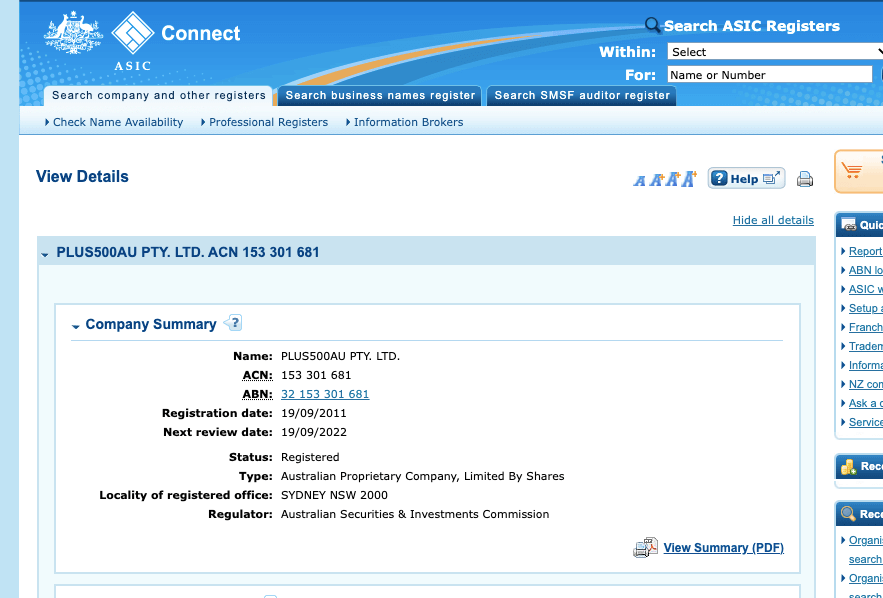 4) Cyprus Securities and Exchange Commission (CySEC): Plus500 is licensed by CySEC as Plus500CY Ltd to provide investment services with license number 250/14 issued in 2014.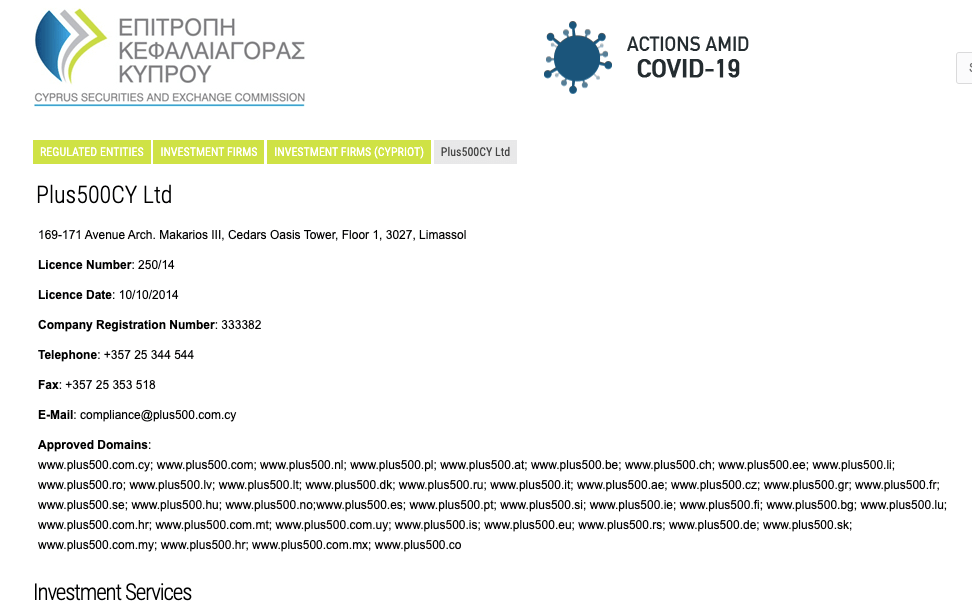 5) Financial Services Authority (FSA), Seychelles: Plus500SEY is registered in Seychelles as a securities dealer and licensed by FSA, Seychelles with license number SD039. This is an Offshore regulation.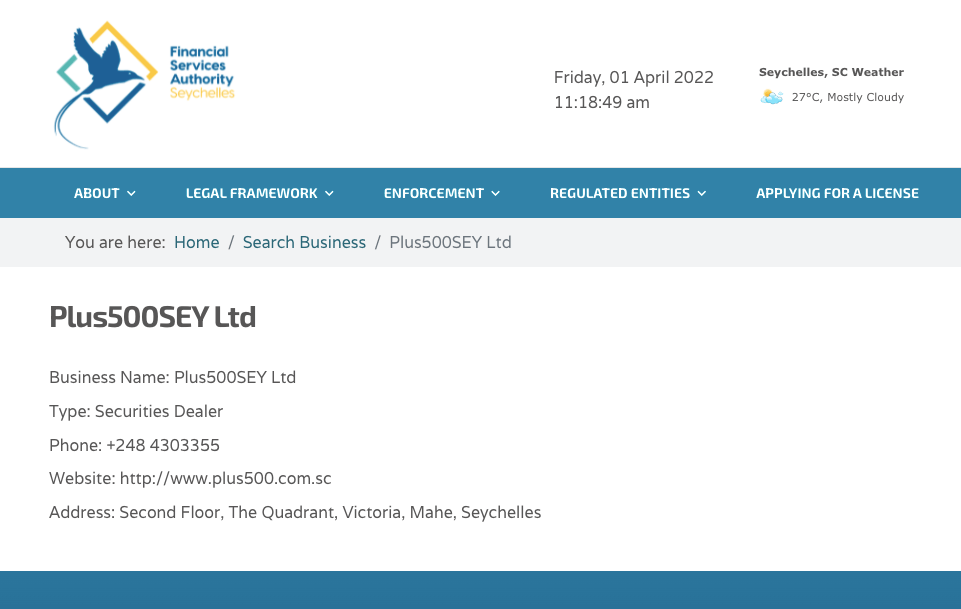 6) Monetary Authority of Singapore: Plus500 is licensed by the MAS as PLUS500SG PTE. LTD. to deal in securities and forex trading.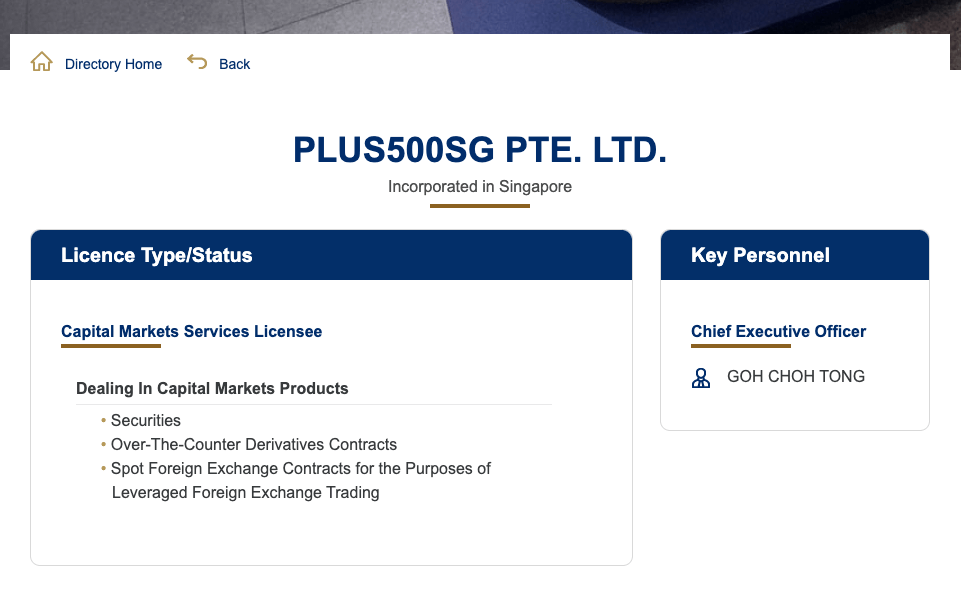 Plus500 Leverage
The maximum leverage on Plus500 for Retail Account holders is 1:30 for major currency pairs, 1:20 for minor currency pairs, gold and major equity indices, 1:10 for other commodities and equity indices 1:5 for individual equities, and 1:2 for cryptocurrencies
Plus500 operates a fixed leverage system, which means that if the broker updates the leverage, the update does not affect already opened trades and you cannot edit the leverage.
Plus500 Account Types
Plus500 offers only Retail Accounts to South African traders. Plus500 also offers Islamic for Arabic countries and Professional Accounts to other countries as well as demo accounts for new traders.
The type of account you have on Plus500 determines what instruments you can trade, how much leverage is available, and the fees you will pay.
Find details about the different types of trading accounts on Plus500 below:
1) Retail Account: When you open an account with Plus500, you automatically have a Retail Account – it's the default account assigned to new users.
You can trade foreign exchange currency pairs and CFDs on indices, shares, commodities, exchange-traded funds (ETFs), cryptocurrencies, and options on this account.
This account does not charge any fees when you make deposits or withdrawals, but you are charged a monthly account inactivity fee of $10 if 90 days pass without you logging into your account.
The Plus500 Retail Account is a spread-only account, with zero commission charges when you open or close trade positions. However, swap fees apply for holding a position overnight, and spreads start from around 0.8 pips for pairs like EURUSD.
To start trading with this account, you will need to make a minimum deposit of R1,500 and the maximum leverage for this account is 1:30.
2) Professional Account: The Plus500 Professional Account is for traders with large portfolios and a high level of experience.
The Professional Account allows for maximum leverage of 1:300, compared to the 1:30 leverage limit of the Retail Account.
To activate a Professional Account on Plus500, you will need to meet one of the following requirements:
You have net assets of 2.5 million AUD.
You had a gross income of 250,000 AUD for each of the last 2 years.
If you meet these requirements, you can apply for an account upgrade from Retail to Professional by submitting a request to customer support via email or live chat with the necessary verification documents.
You can also apply to return to a Retail Account from Professional Account.
Note that Plus500 currently does not offer Professional accounts to traders in South Africa.
3) Islamic Account: Plus500 has a Sharia law-compliant Islamic Account for Muslim traders in Arabic countries. This account does not affect the leverage for Retail or Professional accounts, but traders' overnight funding fees will be waived.
Plus500 South Africa currently does not offer Islamic CFDs. However, if you are interested in having a swap-free Islamic trading account, you can make a request by contacting support via email or live chat. Your request will only be considered after your account is approved and will be required to provide additional documents for verification.
Plus500 Base Account Currency
When you sign up on Plus500 South Africa, your trading account currency is automatically set to ZAR. You can change it to other currencies by contacting customer support. Other currencies available are GBP, EUR, USD, and AUD.
Deposits, trades, and withdrawals will be measured in this currency.
Plus500 Overall Fees
To help you understand Plus500's fees and charges, we have provided a brief overview.
Trading fees
1) Spreads: Plus500 charges spread fees on trades. This represents the difference between the "ask" and "bid" prices of financial instruments. Spreads on Plus500 start from around 0.8 pips for major pairs like EURUSD.
Plus500 uses a variable spread system that continuously updates throughout the day and is adjusted in line with market movement, liquidity, and volatility.
Below is a breakdown of the typical spreads charges on the major currency pairs:
| Instrument/Pair | Plus500 Typical Spread |
| --- | --- |
| EUR/USD | 0.8 pips |
| GBP/USD | 1.3 pips |
| EUR/GBP | 1.5 pips |
2) Commission fees: Plus500 offers commission-free trading on all of its trading instruments and is applicable to all account types. This means you can trade without paying commission fees.
Swap fees: Plus500 charges swap fees (overnight funding fees) when you hold a trade position overnight. The fee is deducted from your account.
Swap-free trading is available with Islamic Accounts on Plus500.
3) Currency Conversion fees: When trading instruments denominated in a currency different from the currency of your account, Plus500 charges a currency conversion fee.
The fee is automatically added to the unrealized profit or loss of an open position.
Non-trading fees
1) Deposit and Withdrawal fees: You do not pay any fees when you deposit money into your Plus500 account or withdraw money from it. This applies to all payment methods supported by Plus500.
Be aware that some payment methods may charge additional/independent processing fees, and If you request a withdrawal for an amount less than the minimum amount, your account may be charged a service fee.
2) Account Inactivity charges: If you do not log into your trading account for 3 months, Plus500 will charge $10 in inactive account fees per month from the balance in your account. If you have no money in your account, no fees will be charged.
How to Open Plus500 Account in South Africa?
To start trading with Plus500 South Africa, follow the steps below to create a Plus500 trading account.
Step 1) Go to the Plus500 website homepage via www.plus500.com and Click the button labeled 'Start Trading' on the top right side of this page, or 'Start Trading Now' at the page center highlighted in white.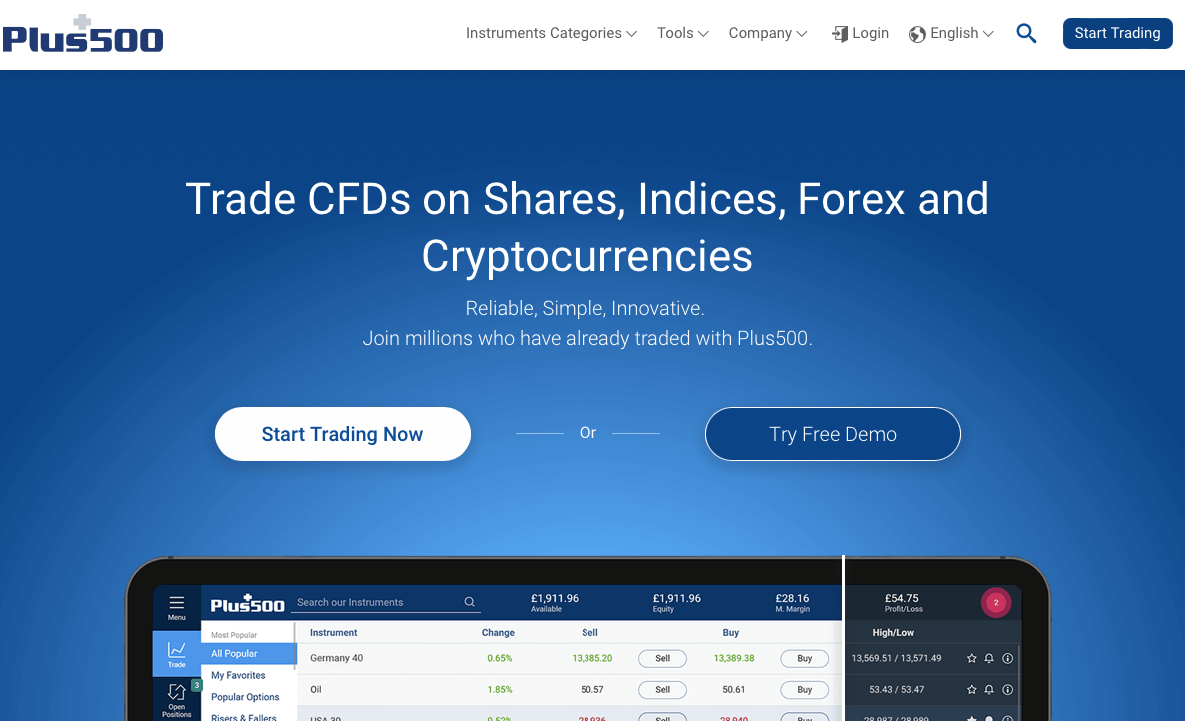 Step 2) Input your email and create a password on the form that appears then click "Create Account". You will be redirected to the Plus500 WebTrader.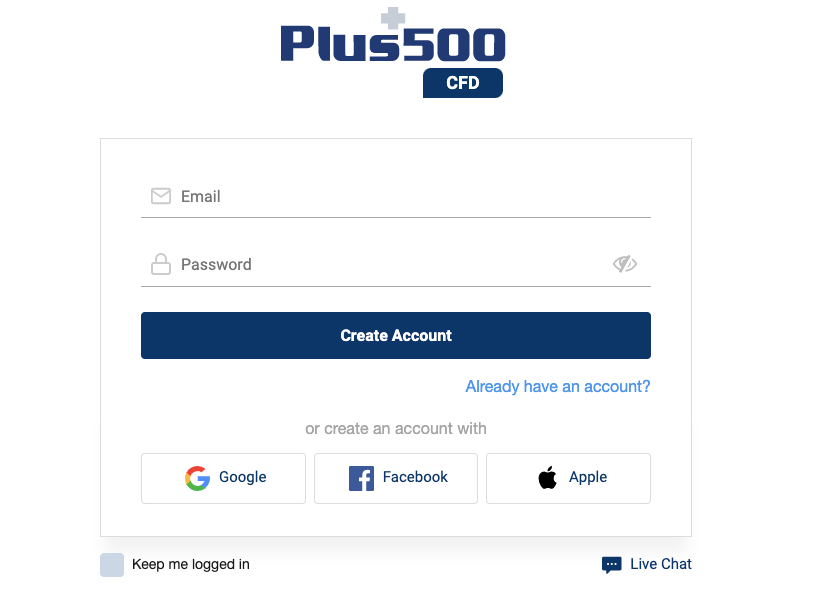 Step 3) To complete your registration, click on the three bars on the left side of the WebTrader, then follow the 'Get Started' link.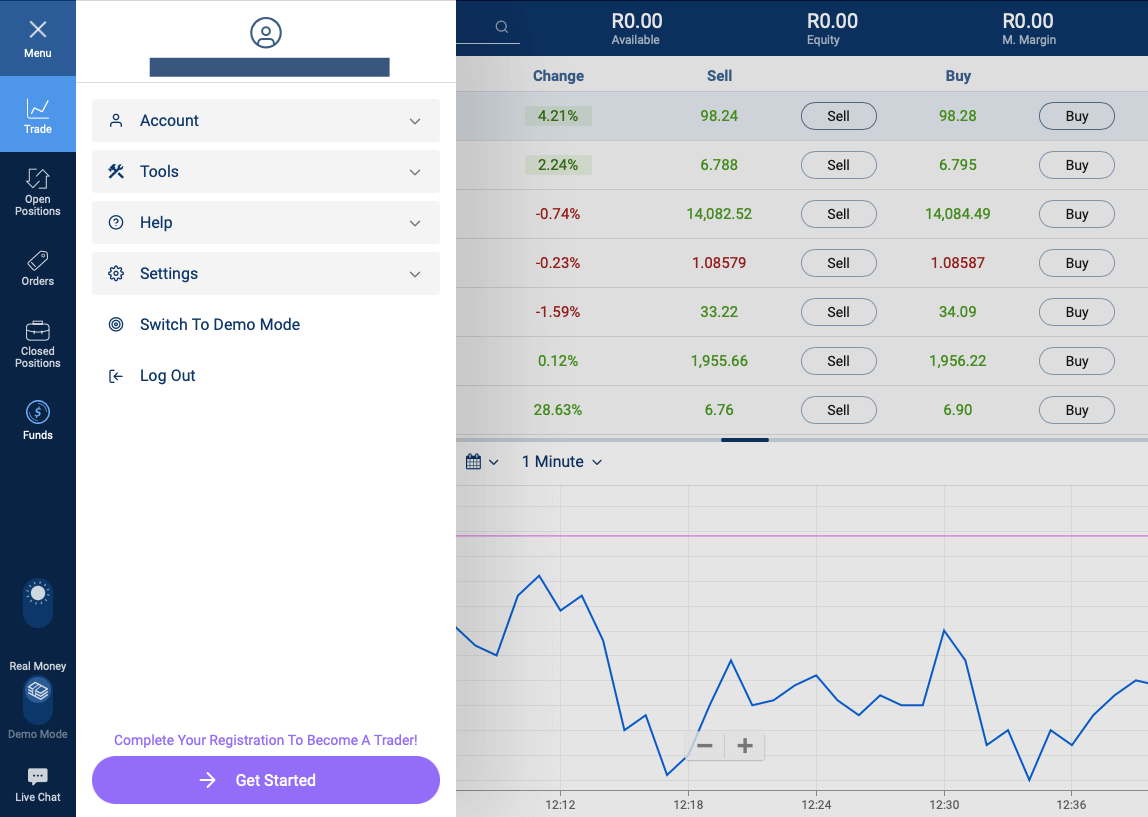 Step 4) Type your full name and date of birth on the personal details form provided, check the box to indicate you are older than 18 years, then click Next. Fill out the address information.
You will also be asked about your country of residence, address, national ID number, schooling, CFDs trading experience, financial status, and knowledge of trading.
After that, check the box to agree to the terms and conditions and click 'Finish'.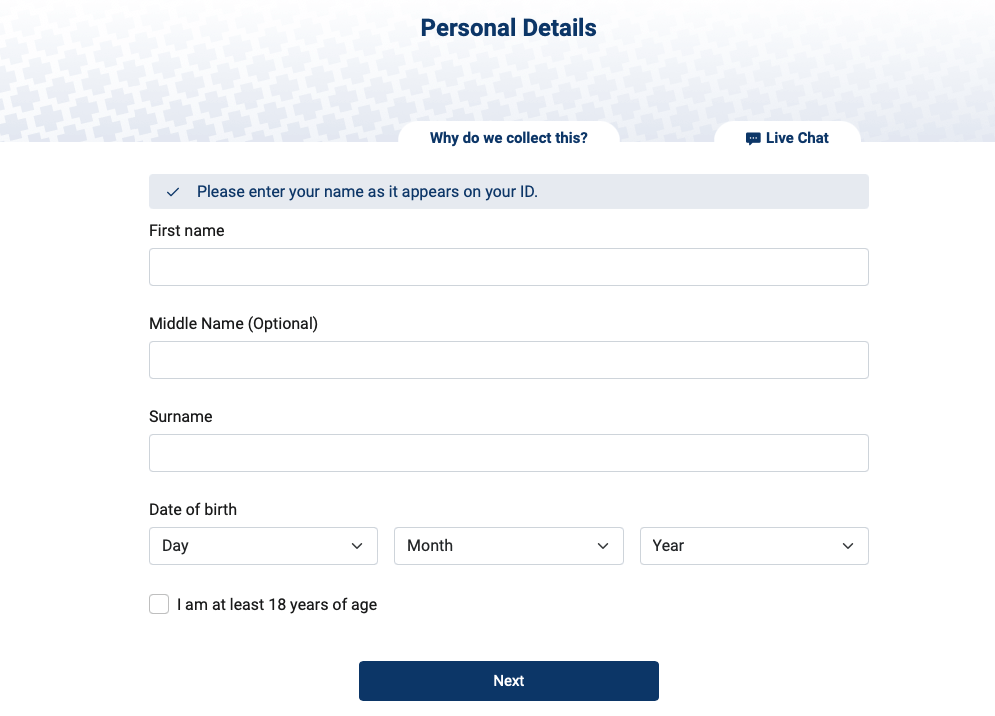 Step 5) You will be taken to the Plus500 dashboard which is the WebTrader.
Now, you will need to verify your account to access the full account features.
To verify your account, click on the menu (three bars) on the left, then select 'Account' and click on 'Verify Account'.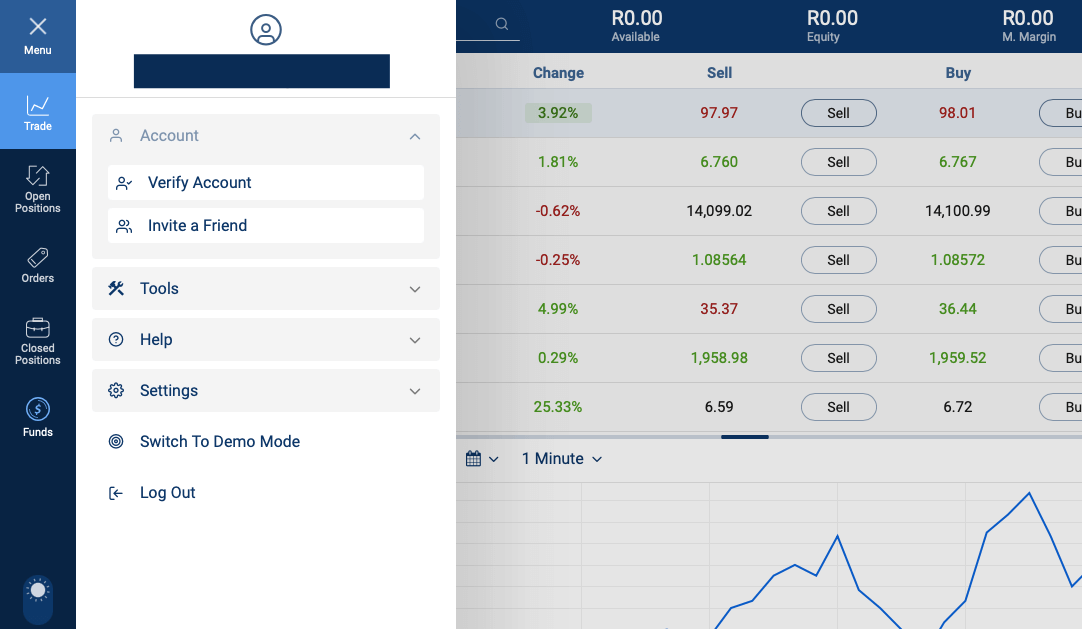 Step 6) You will be required to upload some documents to verify your identity and address.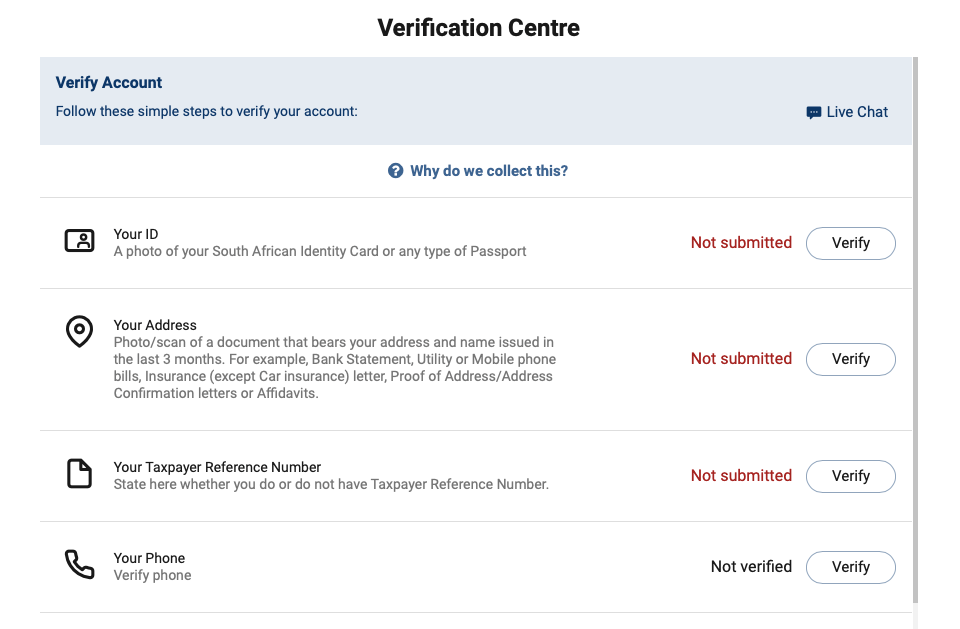 After your account is verified, you can make deposits, trade, and withdraw funds.
Plus500 Deposits & Withdrawals
Plus500 offers several ways to deposit and withdraw funds, including bank transfers, debit/credit cards (Visa & MasterCard), and e-wallets like Skrill and PayPal.

The minimum deposit and withdrawals depend on the payment method used.
What is Plus500 Minimum deposit?
Plus500 requires a minimum deposit of R1,500 for deposits via cards, PayPal, and Skrill. Funds are credited instantly.
Deposits via bank transfer on Plus500 require an R3,000 minimum deposit and are credited within 5 business days.
What is Plus500 Minimum withdrawal?
The minimum withdrawal amount on Plus500 is R1,400 for cards and bank transfers, though there is a smaller threshold for withdrawals to PayPal and Skrill: R700.
Your withdrawal to all payment methods will be processed within 3 business days and may take 3-7 business days for you to receive the funds depending on the payment method you are using.
How do I Deposit Funds?
To deposit funds to your Plus500 trading account and start trading, follow these steps:
Step 1) Log in to your Plus500 account at www.plus500.com by clicking on Login at the top bar menu or visiting app.plus500.com directly, input your email address and password, and click 'Login'.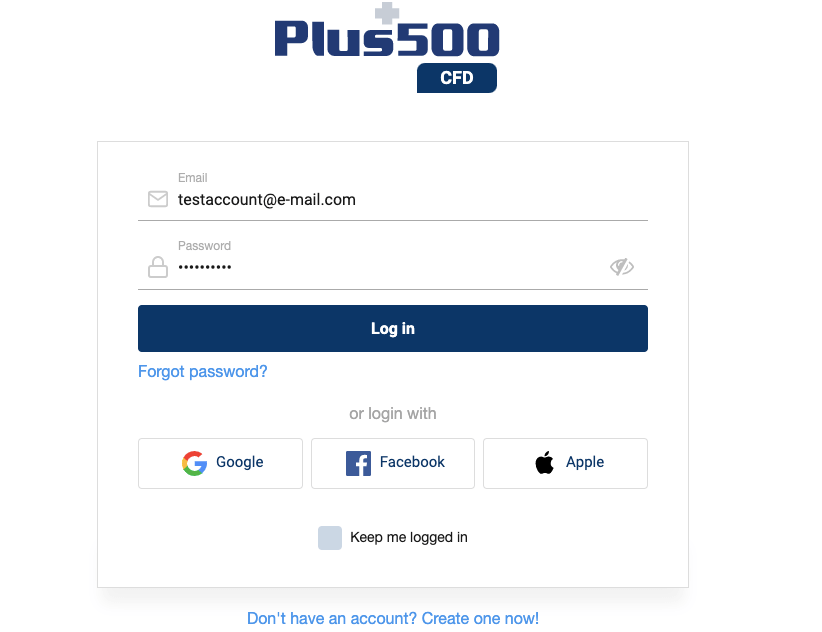 Step 2) After you log in, click the left-side menu tab and then select the 'Deposit' link.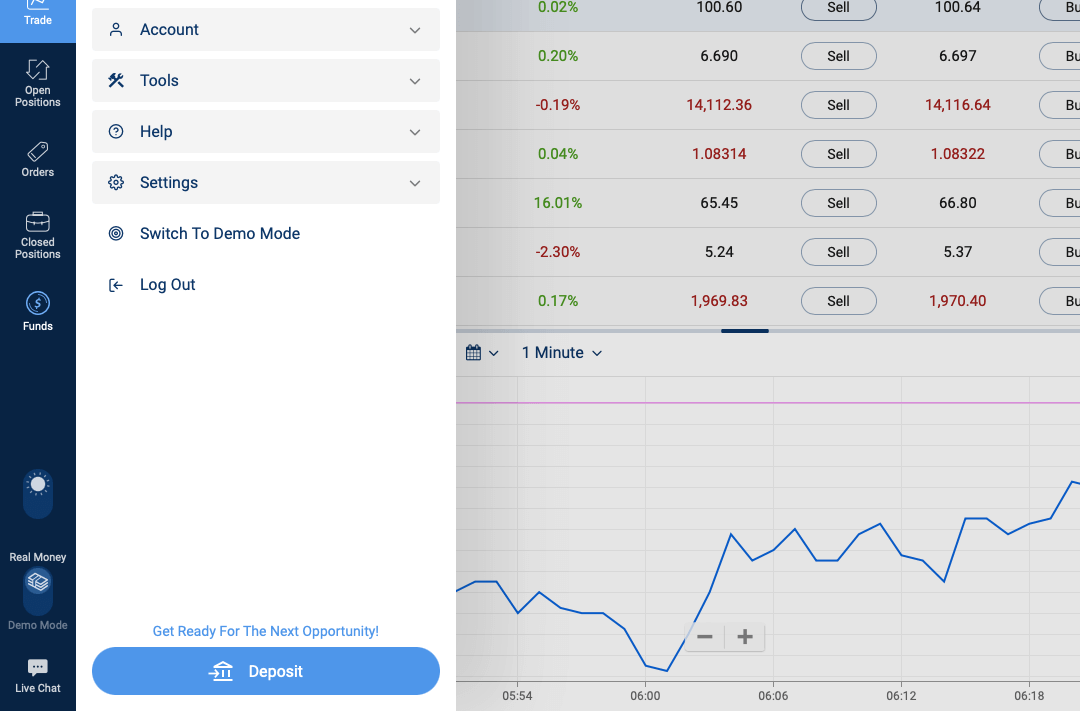 Step 3) You will need to select the payment method, such as credit card, PayPal, or bank transfer, you want to use to make the deposit.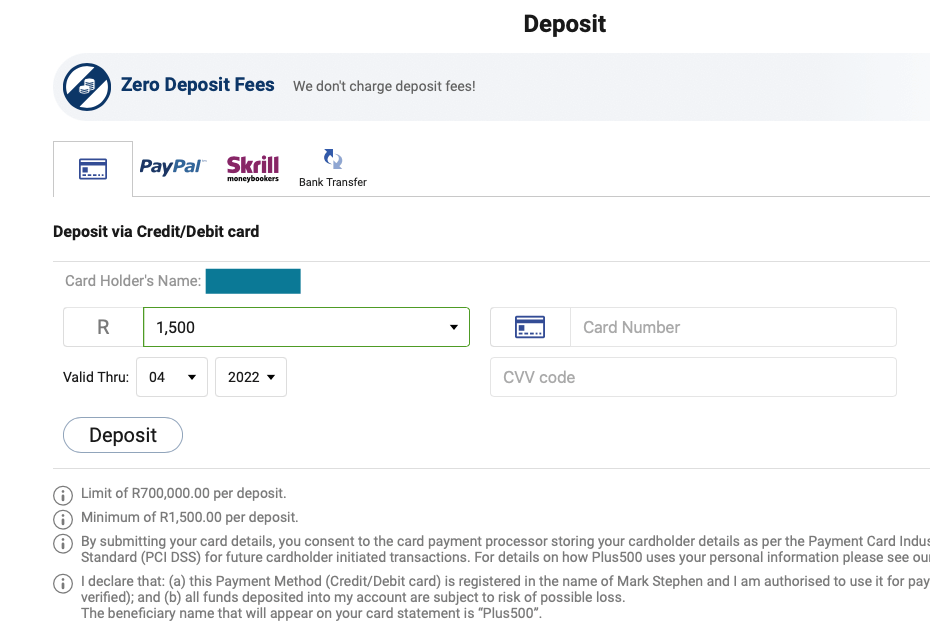 Step 4) After you choose a payment method, follow the on-screen instructions to complete your deposit.
How to Withdraw Funds from Plus500 in South Africa?
You can follow these steps to withdraw your money from Plus500 South Africa.
Step 1) Log in to your dashboard, then click the left side menu, and select 'Funds'.
Step 2) Click Withdraw on the main menu and select a withdrawal method.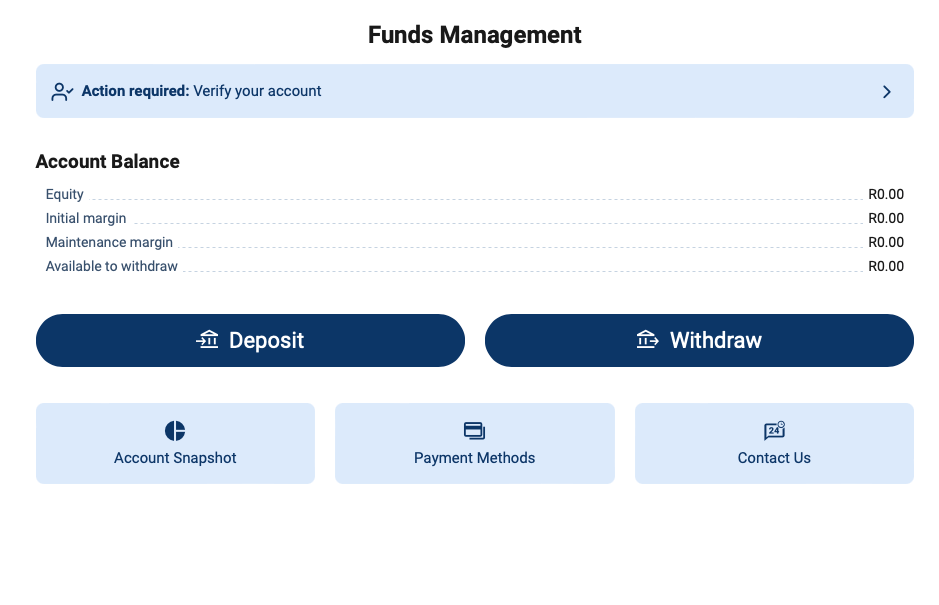 Step 3) Next, fill in the amount you want to withdraw and other fields required.
Then click 'Open a Withdrawal' and follow the instructions shown to complete the transaction.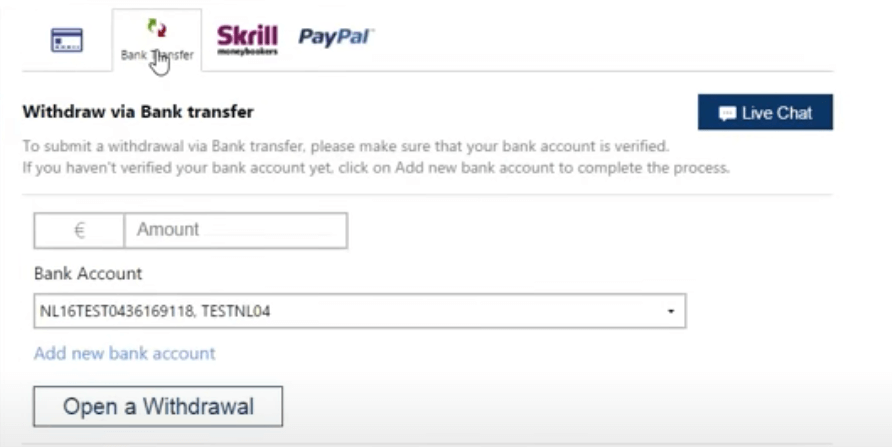 Be aware that withdrawal payments can only be made to the same source that was used to make the deposit, and the payment methods must match the name on the trading account.
Also, you need to verify your account before you can initiate any withdrawals.
Plus500 Trading Instruments
You can trade more than 2000 financial instruments with Plus500. The products are distributed among the following categories.
| Instrument | Availability | Number |
| --- | --- | --- |
| Forex | Yes | 66 currency pairs on Plus500 (including majors & minors) |
| Commodities | Yes | 22 spot commodities on Plus500 (including oil, gas, coffee, and others) |
| Shares | Yes | 1,655 shares on Plus500 (From 24 countries including the UK, USA, Japan, Sweden, South African shares, and others) |
| Indices | Yes | 27 spot indices on Plus500 (US-TECH 100, UK100, GER40, and others) |
| Options | Yes | 356 Options on Plus500 |
| ETFs | Yes | 96 ETFs on Plus500 |
| Cryptocurrencies | Yes | 19 cryptocurrencies pairs on Plus500 |
Plus500 Trading Platforms
The Plus500 Trader is the only trading platform supported by Plus500. The platform is owned by Plus500 Ltd and allows you to trade a large variety of financial instruments.
MetaTrader 4, MetaTrader 5, and EAs cannot be integrated into the platform.
You can use Plus500 Trader on the web, macOS, and Windows desktops, as well as Android and iOS devices.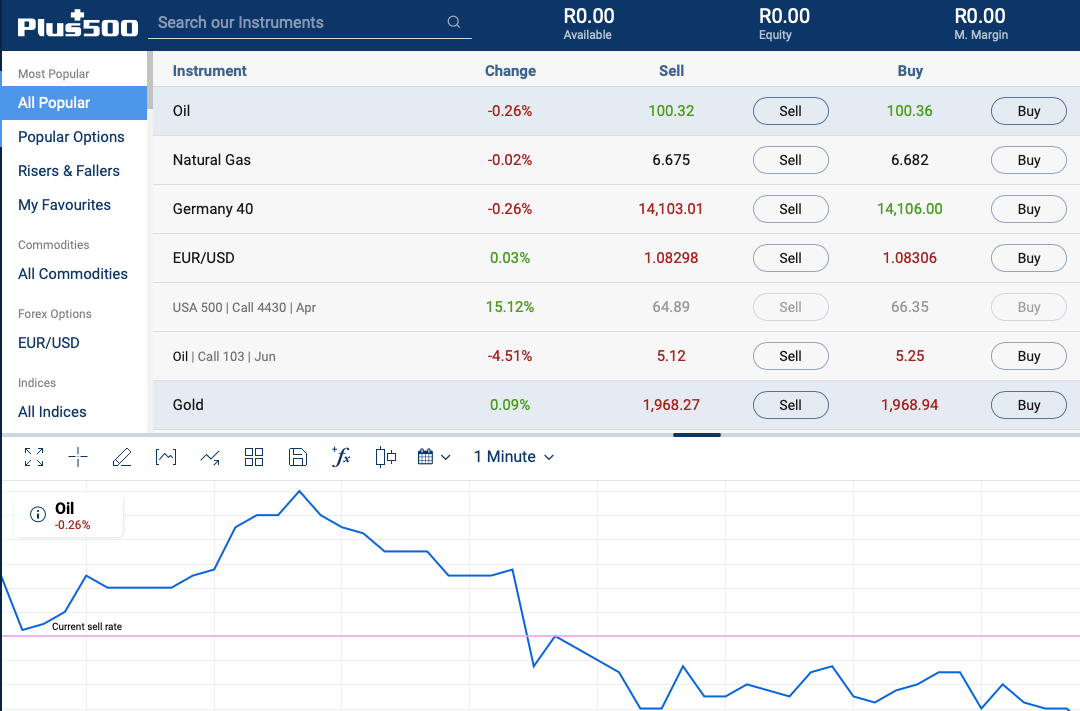 Plus500 Trader comes with risk management tools that protect you from extreme losses. They have the conventional stop loss but it is liable to slippage. To reduce this risk, Plus500 provided guaranteed stop loss orders on the platform. With this tool, your stop loss will not be exceeded no matter how volatile the market is. The only downside is that it is not available for all CFDs on Plus500 Trader.
In addition, Plus500 Trader has a good charting display. It has various chart types like candlestick charts, bar charts, etc. You will also have access to historical price movements, trading volumes, baseline, etc. The platform also has top technical indicators like the MACD, Bollinger bands, moving averages, and relative strength index.
Plus500 Execution Policy
Plus500 automatically processes your orders via Straight Through Processing. They are an STP broker with no dealing desk. There is no conflict of interest issue between Plus500 and their clients. When you open a position, Plus500 hedges the risk with a counterparty. This way, they have no personal gains from your losses. It is a key component of their execution.
Price quotes are supplied by liquidity providers and other third-party sources. This confirms that Plus500 is not a market maker. Their execution policy strives to secure the best tradable prices from these sources. Though there are rare occasions where you might not the best price, Plus500's execution is good enough for an STP broker. In addition, prices are obtained from various sources to prevent excessive reliance on a singular source. These sources are reviewed regularly to make sure only competitive prices are provided.
There aren't many details on costs that we have not covered under the fees section. However, you should note that spreads can be readjusted based on volatility and other market factors. GSLOs, swaps, and currency conversion fees are other points under costs. Plus500 charge you for guaranteed stop loss orders by widening the spread of the CFD you are trading.
High relevance is also attached to the speed and the likelihood of execution. Under normal circumstances, your trades will be executed at the level you request. But your trades can be rejected or executed at a different level in certain conditions. For example, if you are trading with poor internet speed or there is high volatility, the quoted price may not be representative of the underlying market price. In this case, your trade will be executed at the best available price. This new price may be beneficial or detrimental depending on price movement.
If volatility is so high that the price has moved beyond a level where the best available price can be found, your order will be rejected. Guaranteed stop loss orders will be executed at the requested level regardless of volatility.
The level of liquidity available also affects the likelihood of your order being executed. In tile of low or zero liquidity, Plus500 reserves the right not to execute your trade. Also, if there is a rare situation where there is a halt or suspension of trading on which the underlying product is traded, your order can be rejected.
Plus500 Education and Research
There are different ways you can learn with Plus500 UK. Here are some of them.
1) Demo Account: A demo account allows you to trade with virtual money. Profits and losses made on this account are virtual as well. A demo account is useful for both beginners and experts. As a beginner, you can attempt to open a demo account with the same amount of money you want to use for your live account. If you are an expert, you can test newly developed strategies. Plus500's demo account does not expire.
2) Economic Calendar: Plus500 economic calendar is good for you if you love to research. The economic calendar covers macroeconomic events that are key to trading currency pairs. Also, it covers corporate events. Corporate events are important for trading shares CFDs. The calendar is equipped with a filter so you can choose the exact time period you want to review.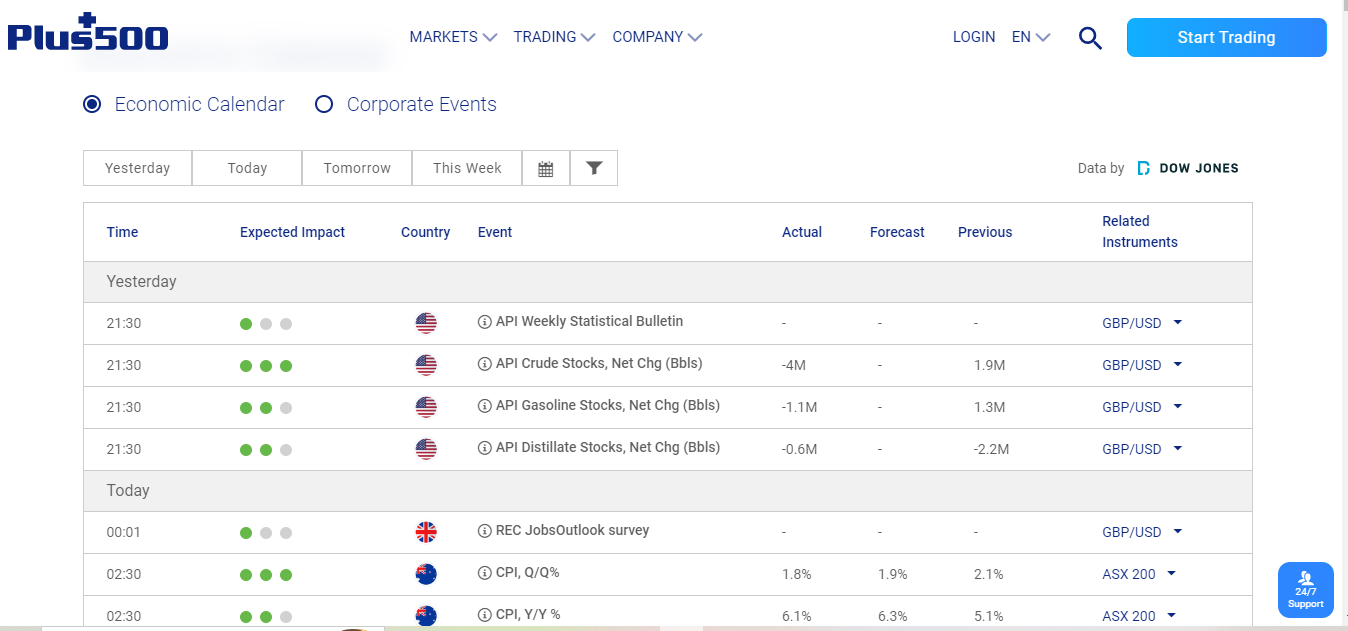 3) Ebook: Plus500's e-book contain information about the broker and the basics of forex trading. The book is not so detailed. However, the knowledge in it can come in handy, especially in the glossary section. The glossary covers basic and advanced terms on forex trading.
4) Videos: There are 10 videos on Plus500's website covering topics like slippage, risk-to-reward ratio, margin requirements, etc. The downside is that these videos are not structured for systematic learning.
5) News and Insights: The news and market insights section is helpful for fundamental traders. Apart from educating articles, important news and analytical reports are uploaded when key economic data is about to be released. There is also a search bar that allows you to backdate the page. With this, you can keep track of past data and their effects on the market.
Plus500 South Africa Customer Service
Plus500 customer support is available 24 hours a day via these channels:
1) Live chat support: Plus500 offers live chat support through their website. Plus500 Live Chat agents respond quickly, and a chat agent was able to answer our questions correctly in less than a minute when we tested the service by starting a chat.
If you have questions about trading on Plus500, you can ask them on the live chat. Plus500 live chat is available 24/7 and can be found on the bottom right corner of their website on a desktop. In order to start chatting, you have to enter your name and email address.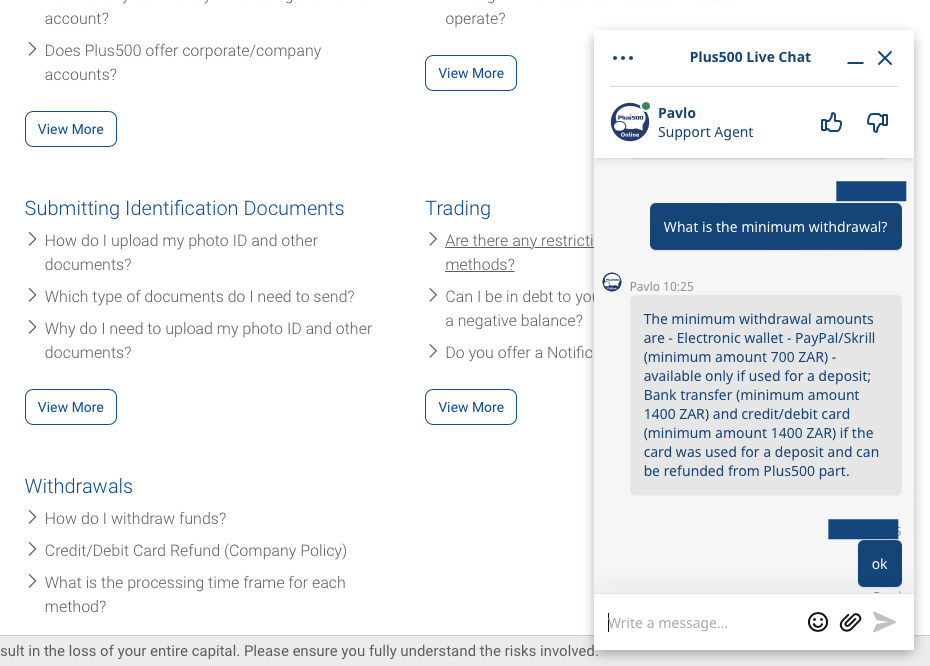 2) Email support:Plus500 offers email support that is also available 24 hours a day, 7 days a week, and responds to customer inquiries promptly.
When we tested the email customer support, we received a response within 30 minutes with the answer to our question.
Once you send an email, you will get an auto-generated response acknowledging your inquiry and assigning a ticket number to it.
A customer support representative will then send you a second reply with the answers to your inquiry.
To send an email inquiry, you may use the form on their website or send an email directly to Plus500 email address via [email protected].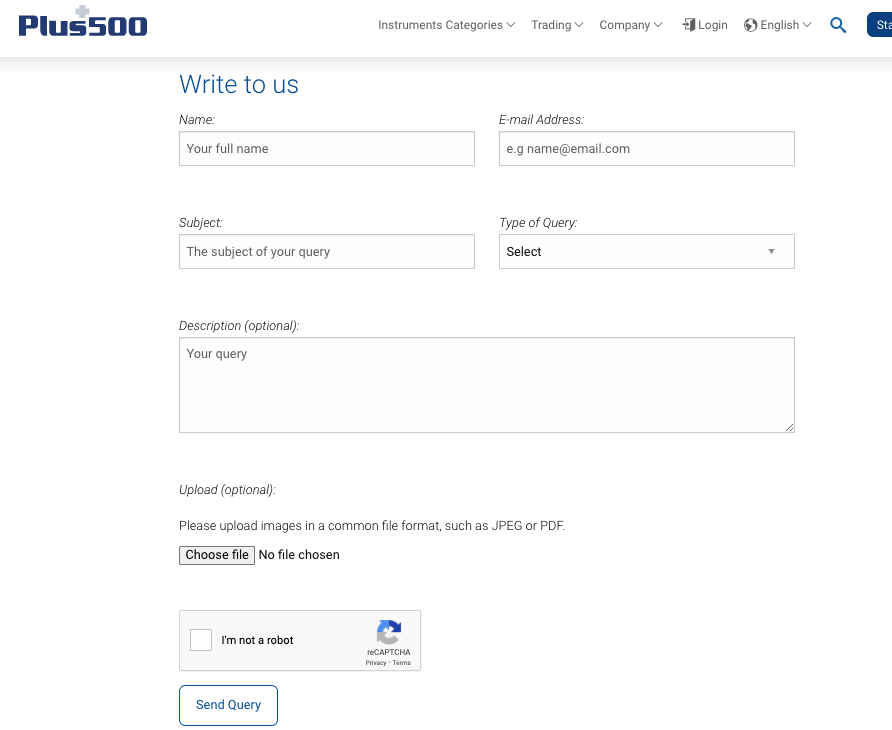 3) Physical office: Plus500 does not have an office in South Africa. Although they have offices in Sydney, Australia, and London, the offices are not open to public visits for inquiries, call customer support, and inquiries are done online.
4) Phone support: Plus500 does not provide a phone support line for inquiries, but they have a WhatsApp account that works in a similar way to the live chat feature which can be used for inquiries. You can find the link to the WhatsApp chat on the FAQ page.
Do we Recommend Plus500 South Africa?
Yes, we recommend Plus500 South Africa for trading CFDs because they are regulated by the FSCA in South Africa and other top-tier regulators worldwide such as FCA, ASIC, and CySEC. This means that they have to follow strict rules, which protect the funds of traders.
The Plus500 proprietary trading platform is easy to navigate, which means even new traders can use it and the account opening process is simple and fast. The fees are moderate and there is no commission charged for any trade on the platform.
The Plus500 customer service is good, which is an important factor when choosing a broker because fast responses ensure that any issues you encounter will be resolved quickly. Although they do not offer phone support, the company responds quickly to emailed and live chat questions.
Note that there are currently no bonuses or promotions being offered to customers by Plus500.
Plus500 South Africa FAQs
Is Plus500 available in South Africa?
Plus500 is available in South Africa, the company is registered as Plus500AU Pty Ltd and authorised by the FCA to provide financial services in South Africa.
Is Plus500 legitimate?
Plus500 is legitimate because they are regulated by the FSCA (Financial Sector Conduct Authority) in South Africa and by other top financial regulators in Australia, Singapore, the UK, and Cyprus.
The company has physical offices, and online customer support and is listed on the London Stock Exchange (LSE) since 2018.
What is the minimum deposit on Plus500?
Plus500 minimum deposit in South Africa is R1,500 for deposits via cards, PayPal, Skrill, and bank transfers.
Visit
Note: Your capital is at risk
Note: We may earn a commission if you decide to sign up with the broker via the referral links in this review. This help us cover the expenses of running this website, but this does not affect our honest & transparent review process. Thanks for your support.