AvaTrade is an online broker for trading Forex, CFDs on stocks, metals, energies, indices, cryptocurrencies, FX Options, bonds, and ETFs with no commission fees.
AvaTrade was founded in 2006 and is regulated in South Africa by the Financial Sector Conduct Authority (FSCA).
We will review the trading conditions, fees, deposit/withdrawals, trading platforms, and the customer support of AvaTrade South Africa to see if this broker is right for you.
AvaTrade Review Summary
🏢 Broker Name
Ava Capital Markets (Pty) Ltd
📅 Establishment Date
2006
🌐 Website
www.avatrade.co.za
🏢 Address
Ava Capital Markets (Pty) Ltd, 2nd Floor, Nelson Mandela Square Office towers West, 2nd Floor, Sandton Johannesburg South Africa
🏦 Minimum Deposit
R1,950 or $100
⚙️ Maximum Leverage
1:400
📋 Regulation
FSCA, ASIC, FCA, CySEC, FRSA, Central Bank of Ireland
💻 Trading Platforms
AvaTrade WebTrader, MT4, MT5 and AvaTradeGo available on PC, Mac, Web, Android, & iOS
Visit AvaTrade
AvaTrade Pros
Regulated by the FSCA
Offers ZAR account currency
Offers commission-free trading
Offers negative balance protection
Supports multiple trading platforms and EAs
Does not charge any fees for deposits or Withdrawals
AvaTrade Cons
Charges inactive account fees
Do not have 24/7 customer support
Slow processing of deposits and withdrawals
Is AvaTrade legitimate?
AvaTrade is licensed in multiple jurisdictions by top-tier financial regulators and this makes them trustworthy for traders in South Africa. This makes the broker legit and scores low on risk.
You can find details of AvaTrade's regulatory status in South Africa, Europe, the UK, and Asia below.
1) Financial Sector Conduct Authority (FSCA) in South Africa: AvaTrade is authorized by the FSCA to provide financial services in South Africa as Ava Capital Markets (Pty) Ltd with FSP number 45984, issued in 2015.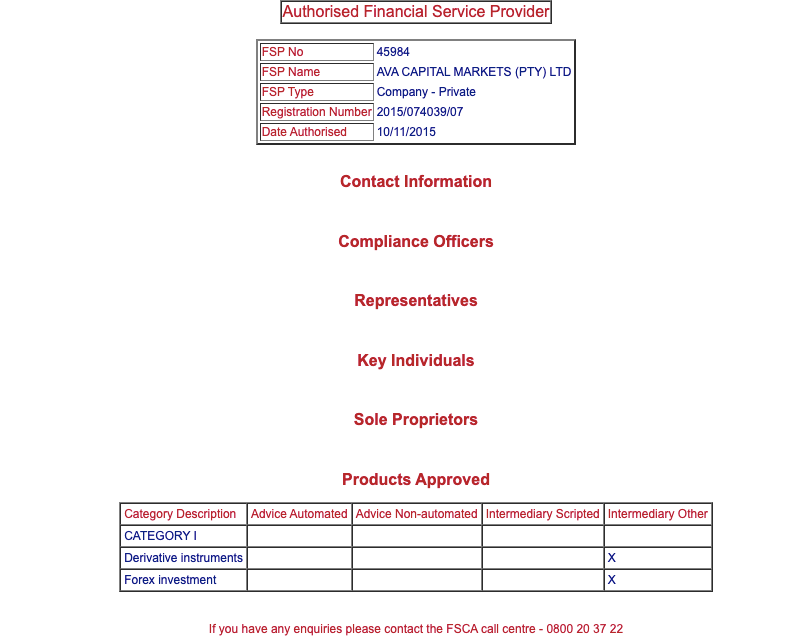 2) Financial Services Commission (FSC), British Virgin Islands (BVI): AvaTrade is regulated in BVI, by the FSC as 'Ava Trade Markets Ltd.'
Although AvaTrade is regulated by the FSCA, traders from South Africa are registered under this offshore regulation. Note that this means trading with AvaTrade via this registration as the consumer protection of FSCA cannot protect you and that of BVI may not protect you. It is best to trade with a broker that registers you under the FSCA license.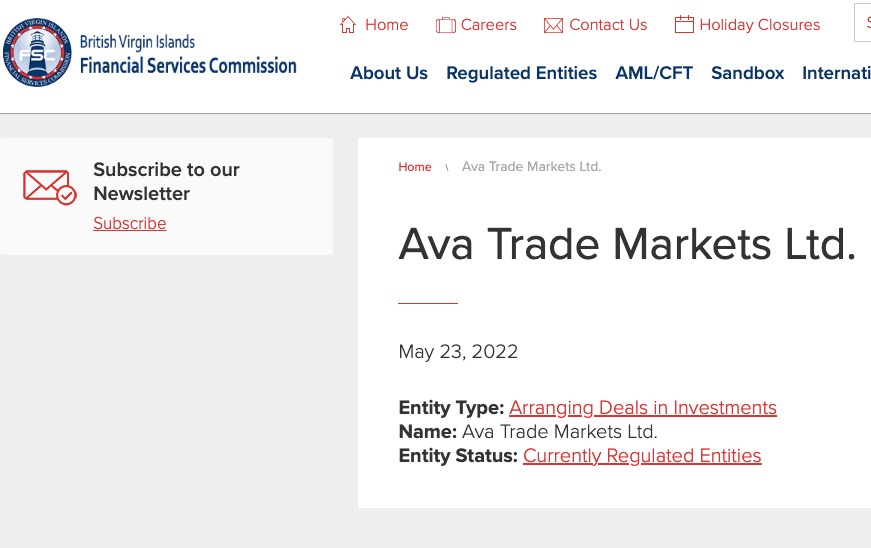 3) Australian Securities & Investments Commission (ASIC): AvaTrade is registered in Australia and regulated by ASIC as Ava Capital Markets Australia Pty Ltd with ACN 143 340 907, issued in 2010.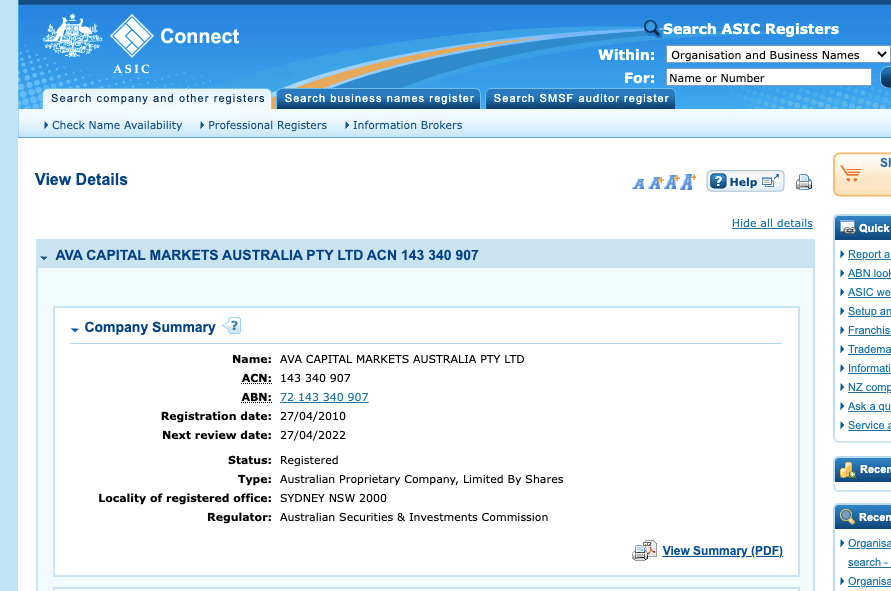 4) Central Bank of Ireland: AvaTrade is registered in Ireland, regulated by the Central Bank of Ireland, and authorized as an investment firm with reference number C53877 in 2009. Ireland serves as the headquarters for AvaTrade.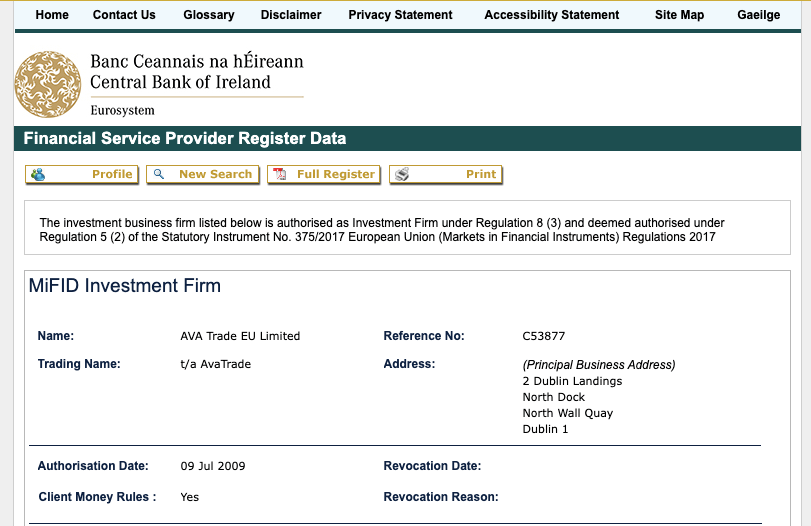 5) Financial Regulatory Services Authority (FRSA) of Abu Dhabi Global Markets (ADGM): AvaTrade also has authorization as an investment dealer in the UAE as Ava Trade Middle East Limited, regulated by the FRSA with permission number 190018 issued in 2020.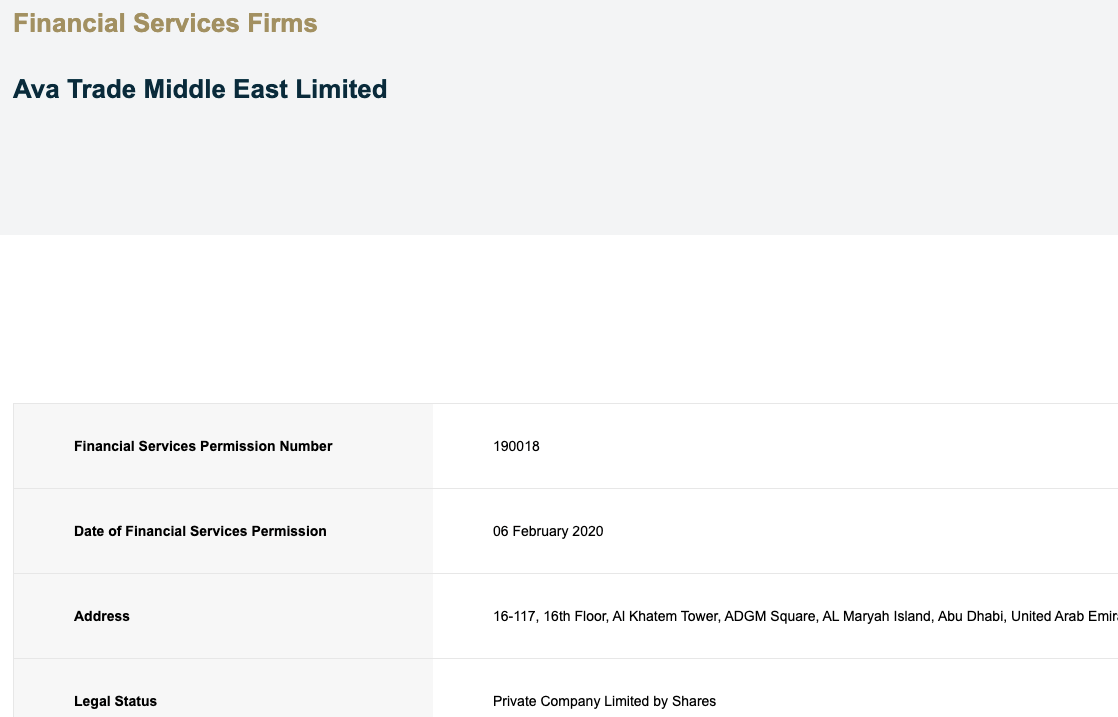 The AvaTrade brand is also authorized in Israel as Ava Trade Ltd., by the Israel Securities Authority, and in Japan as Ava Trade Japan K.K. authorized by the Financial Services Agency of Japan.
AvaTrade Leverage
AvaTrade operates a fixed leverage system traders are subject to maximum leverage of 1:400 on AvaTrade and some instruments have lower leverage ratios.
With leverage of 1:400, you can place a trade worth 400 times the value of your deposit. For example, if you deposit R1,000, you open a trade position worth R400,000.
Note that the 1:400 maximum leverage on AvaTrade only applies to major forex pairs, leverage limits for other instruments are 1:200 for gold and indices major, 1:100 for FX Options, oil and indices minor, 1:50 fo other commodities, 1:25 for cryptocurrencies, and 1:10 for stocks.
It is important that you do not use all your leverage when trading as it increases your risk exposure. It is best to avoid trading CFDs if you do not have experience or understand it as you can lose all your money.
AvaTrade Account Types
AvaTrade offers only one type of account to traders in South Africa, which is the Macro Account.
They also offer demo accounts for beginners and a no-swap Islamic account option upon request.
Below, you will find information about the different account types at AvaTrade.
1) Macro Account: When you sign up with AvaTrade, you will automatically become a Macro Account trader. You can trade on a variety of financial instruments, including forex pairs and CFDs on bonds, stocks, commodities, precious metals, energies, FX Options, ETFs, cryptocurrencies, and indices.
No commissions are charged for opening trades or closing trades with the Retail Account, swap fees are charged for maintaining a position that remains open overnight, and the spreads on majors like EURUSD start from 0.9 pips.
To start trading with the Retail Account, you must deposit a minimum of $100 or R1,750 and trade with a minimum of 0.01 lots with a maximum leverage of 400:1.
You have negative balance protection with this account, which means that you will not lose more than the money deposited. If you suffer a loss from a trade, your account balance cannot be negative.
2) Islamic Account: AvaTrade offers swap-free Islamic Accounts to Muslims who want to adhere to sharia law in their trading.
If you want an Islamic Account, you need to first sign up for a Macro Account and then contact customer support so that they can convert your account to swap-free Islamic status. Such requests are processed within 2 days.
The leverage and fees for this account are the same as the Macro Account except that it does not charge a fee when you hold a position overnight for a grace period of 5 days, after which swap fees apply.
Note that AvaTrade Islamic Account holders are not allowed to trade FX currency pairs of ZAR, MXN, TRY, RUB, and any Cryptocurrencies. Additionally, Islamic customers pay increased spread fees on all trades.
AvaTrade Base Account Currency
While signing up for an AvaTrade account, you can select South Africa Rand (ZAR) as the base currency on your account, and all your trades, deposits, and withdrawals will be measured in this currency.
Additionally, AvaTrade offers you the option to choose between dollars (USD), British pound sterling (GBP) or Euros (EUR), and Swiss Franc (CHF). You can set any of them as your AvaTrade account base currency and deposits in ZAR will be converted to this currency.
AvaTrade Overall Fees
Fees on AvaTrade depend on several factors, including the type of account you have, the instruments you're trading, and the volume of your transactions. An overview of trading and non-trading fees can be found below:
AvaTrade Trading fees
1) Spreads: When you trade any instruments on the platform, AvaTrade charges spread fees, which are the differences between the buy and sell prices of the financial instrument you are trading.
For example, if you're buying EURUSD at 0.02250 and selling it at 0.02180, the difference of 0.0007 is the spread fee, also called pips.
The AvaTrade spreads are fixed. The typical spread fees for 1 lot size of major currency pairs are shown in the table below.
| Instrument/Pair | Retail Account |
| --- | --- |
| EUR/USD | 0.9 pips |
| GBP/USD | 1.5 pips |
| EUR/GBP | 1.5 pips |
| Gold | $0.29 over market |
2) Commission fees: AvaTrade offers commission-free trading on all account types, a feature that allows you to enter and exit trades on any instrument without paying any fees.
3) Swap fees: Swap fees apply whenever you keep an open position on AvaTrade after midnight. The fee is based on the total volume of your positions and whether they are long (buy) or short (sell).
Your daily typical swap costs on AvaTrade for EURUSD on a trade size of 1,000 would be -0.0015% for selling, and -0.0060% for buying.
Since Islamic Accounts are swap-free, they do not pay any swap fees for a 5-day grace period.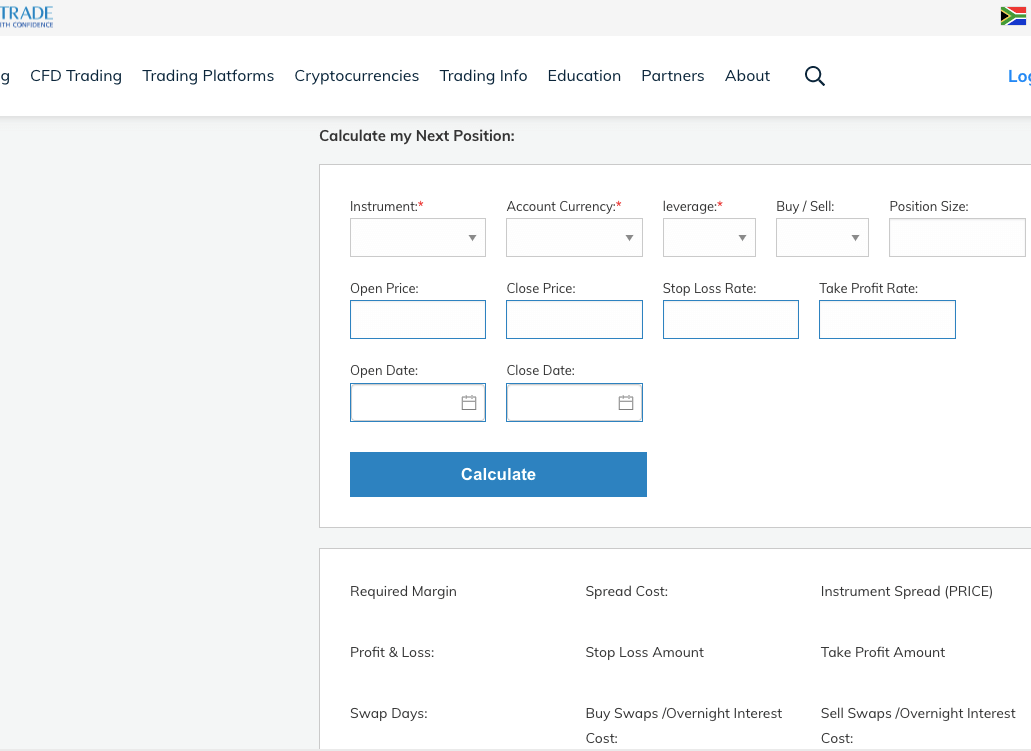 AvaTrade Non-trading fees
1) Deposit and Withdrawal fees: AvaTrade does not charge you any fees when you deposit money into your trading account or withdraw money from it. This applies to all payment methods.
Your bank or payment processing company may charge some independent transaction fee.
2) Account Inactivity charges: If you don't log in to your AvaTrade account for three consecutive months, a fixed monthly inactivity fee of $50 will be charged. After 12 months of inactivity, an additional administrative charge of $100 will be added. However, your account balance won't become negative if it has no funds.
How to Open AvaTrade Account in South Africa?
To start trading on AvaTrade, follow the basic steps below to open a trading account.
Step 1) Visit AvaTrade's website, www.avatrade.co.za, and click the 'Register Now' button highlighted in orange.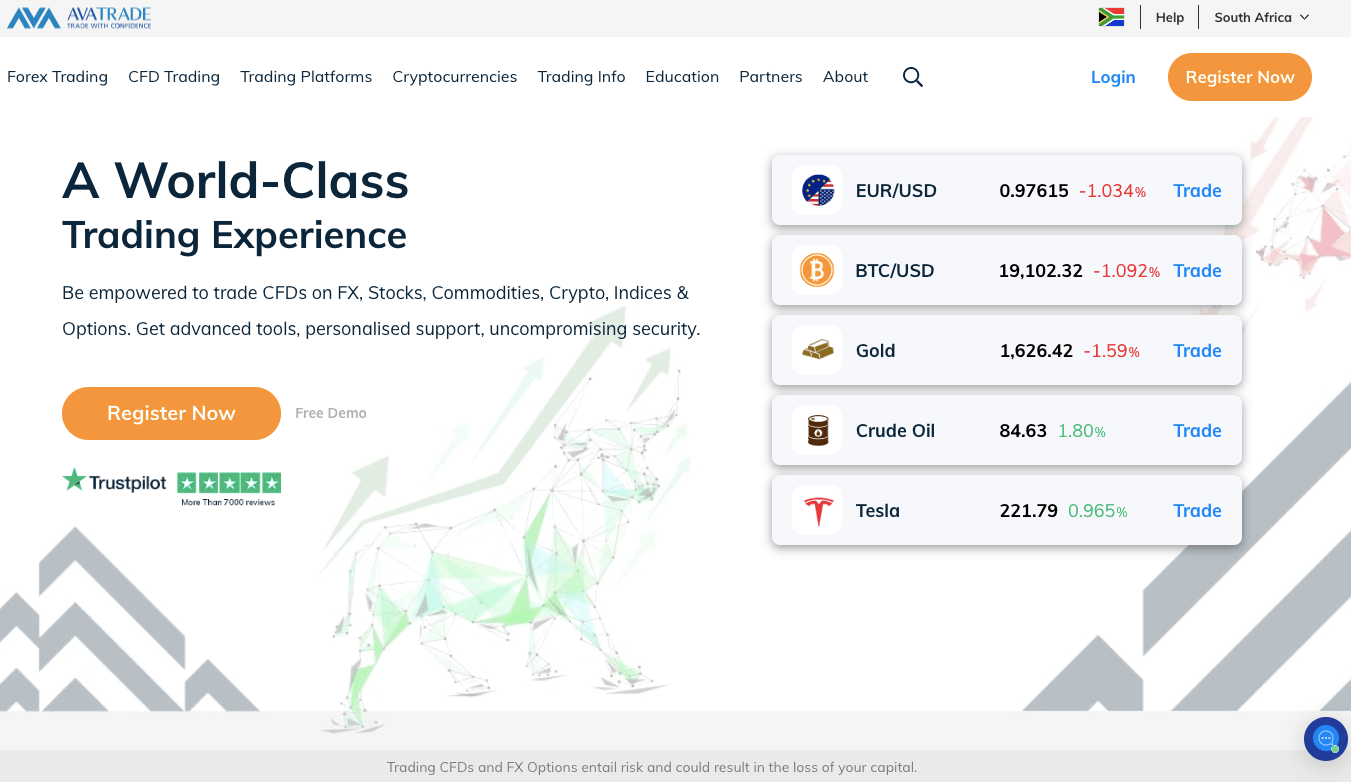 Step 2) Type in your email address and create a password on the form that appears. Then click "Create My Account" to continue.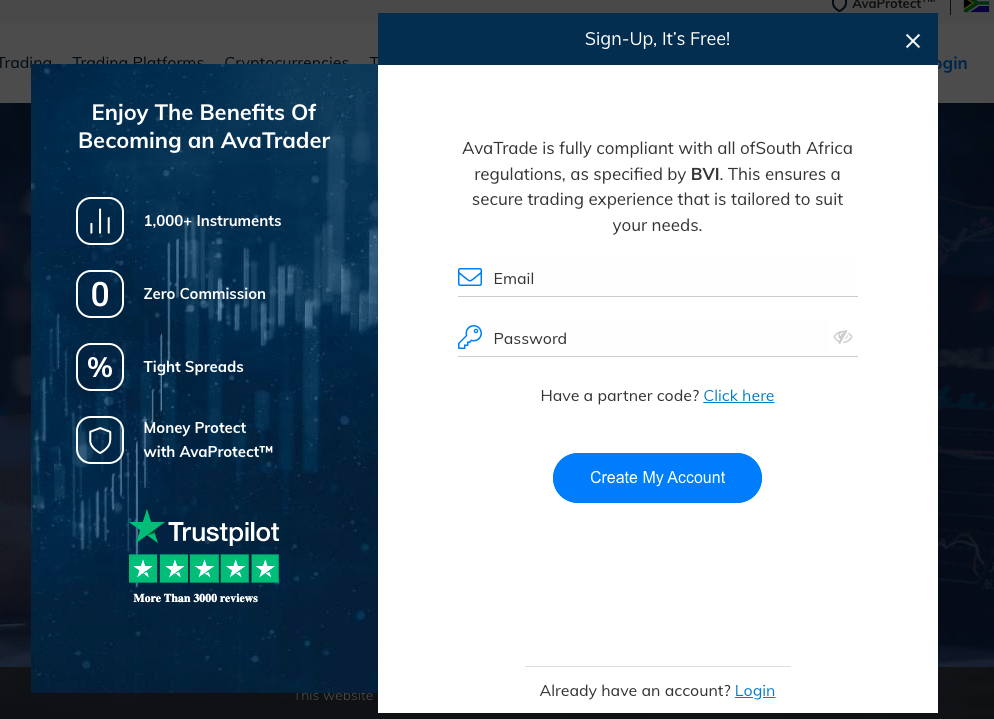 Step 3) After you click Create Account, you will be taken to the AvaTrade dashboard and asked to provide some personal details like date of birth, phone number, and full name.
Supply this information and then click the blue arrow button at the end of the form to go to the next page of the registration.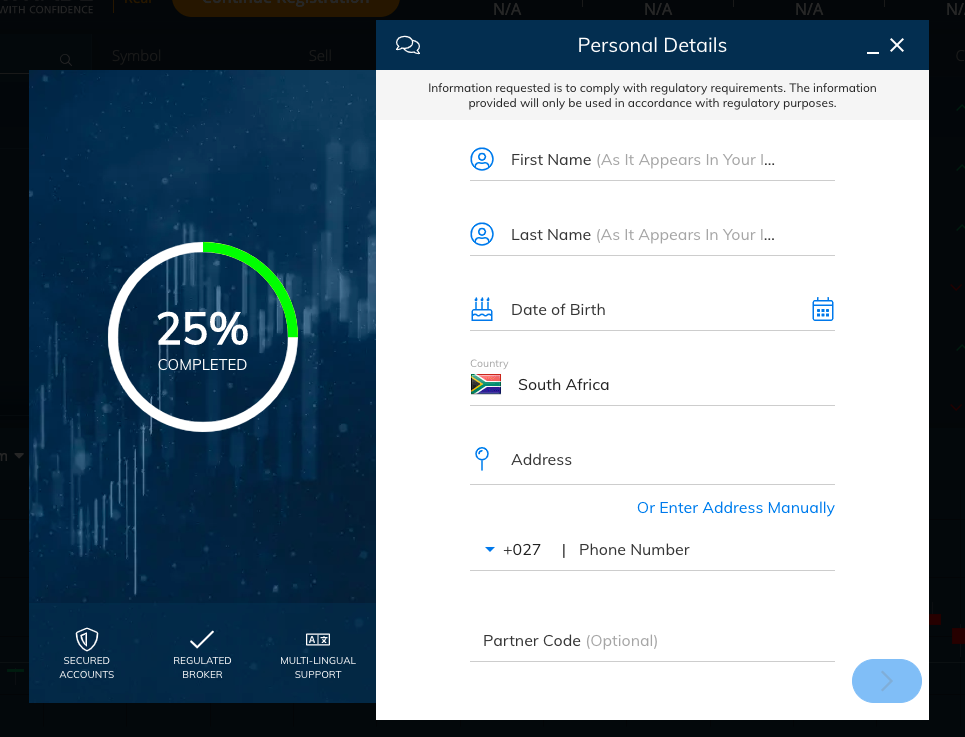 Step 4) Now you will be asked to provide some information about your income and employment status.
You will need to select a preferred trading platform (MT4 or MT5) and a base currency for your account. You can choose ZAR, CHF, EUR, GBP, or USD, then click on the blue arrow button to continue.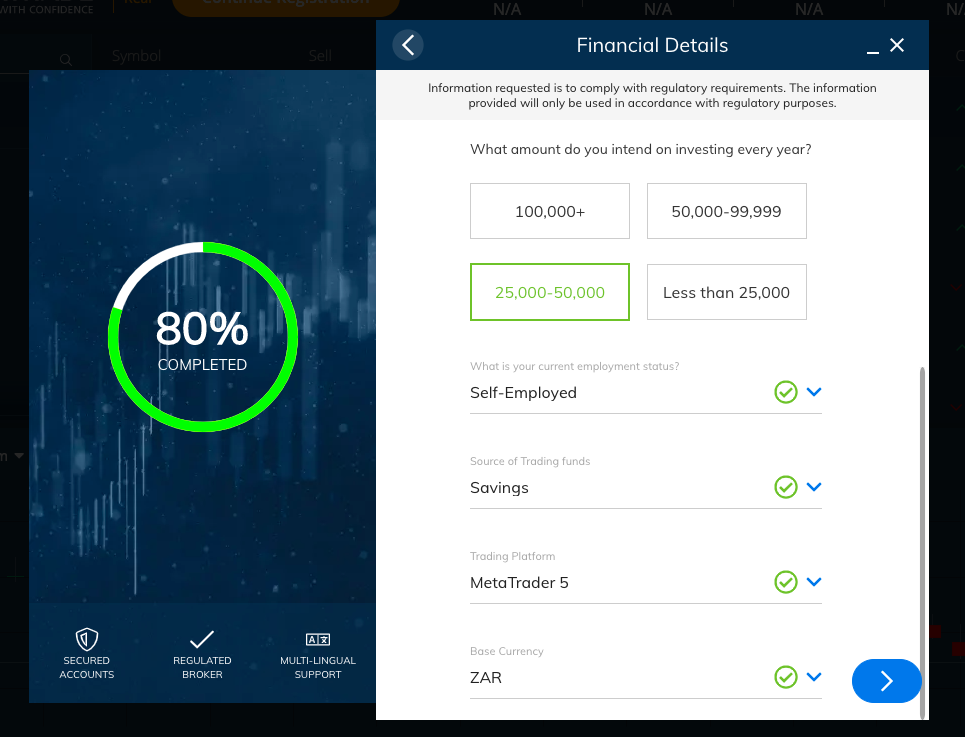 Step 5) Check the boxes to declare that you are not a US citizen, that you have read, understood, and agree to the terms, conditions, and privacy policy of the broker, and then click on 'Complete Registration'.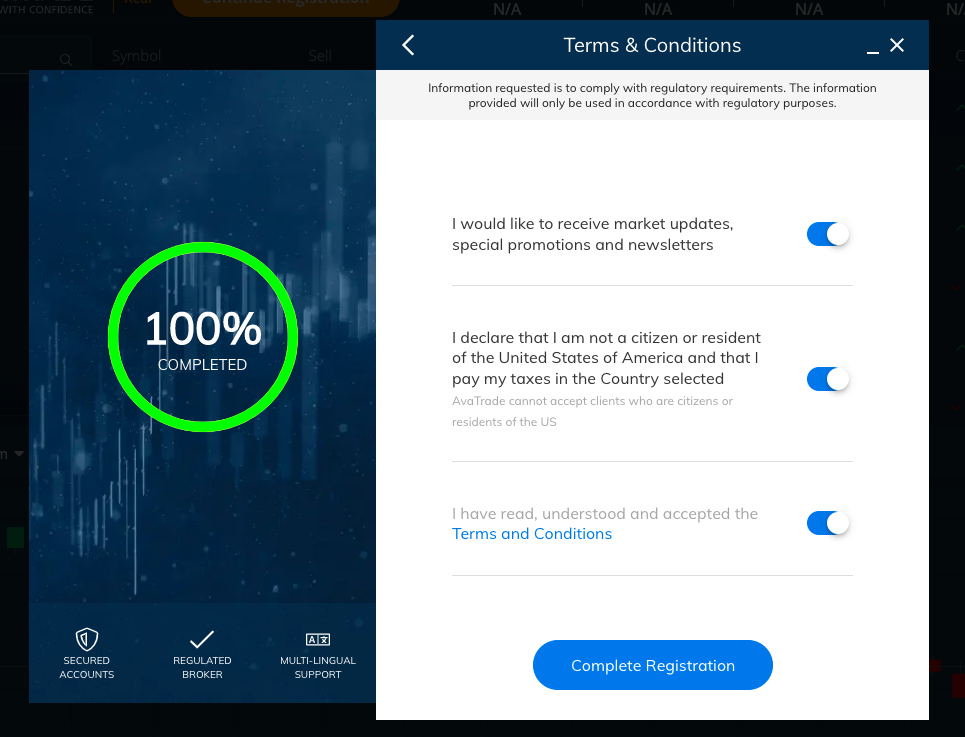 Step 6) Once you complete registration, you will be redirected to the AvaTrade dashboard.
Here you will upload identity and address verification documents to verify your account. Click on the menu (three bars) on the top right corner, then select 'Upload Docs'.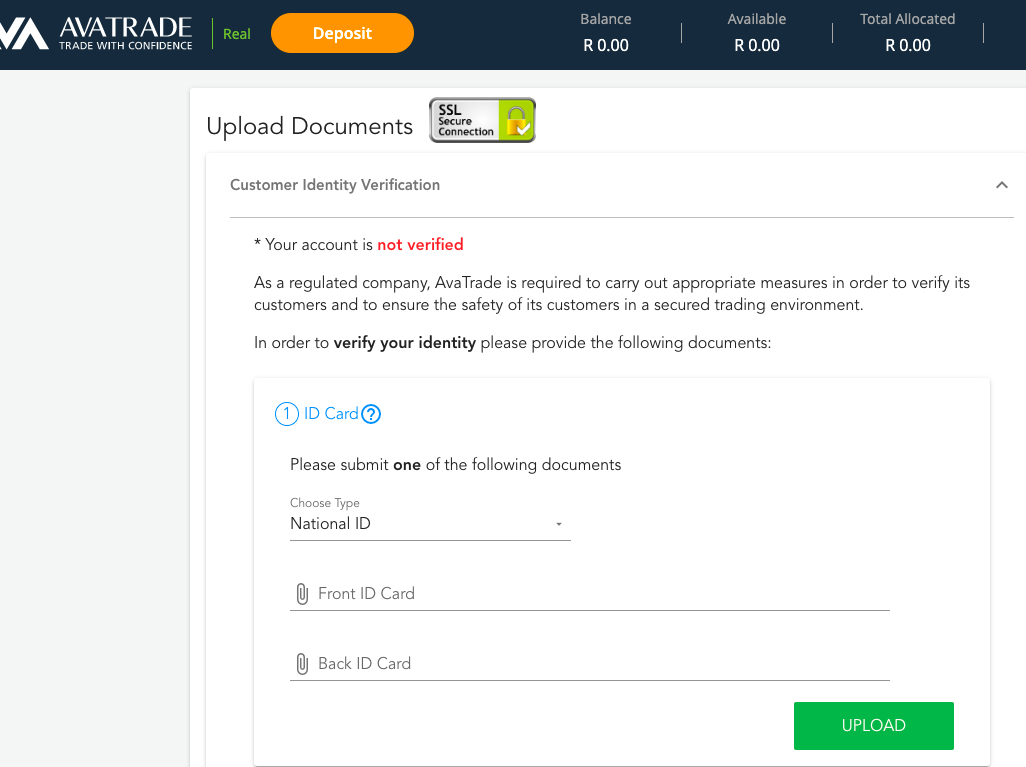 Once you verify your account, you can add money to your trading account, begin to trade, and withdraw funds.
AvaTrade Deposits & Withdrawals
AvaTrade accepts the following payment methods for deposits and withdrawals: credit/debit cards, Skrill, Neteller, and bank wire transfers. These methods are visible on the deposit and withdrawal page of your account.
Below we have provided an overview of deposits and withdrawals on AvaTrade South Africa.
AvaTrade Deposit Methods
Here is a summary of payment methods accepted by AvaTrade for deposits.
| Deposit Methods | Availability | Charges | Processing time |
| --- | --- | --- | --- |
| Local Bank Wire Transfer | Yes | Free | Up to 10 business days |
| Cards | Yes | Free | Instant |
| E-wallet | Yes (Skrill, Neteller) | Free | 24 hours |
AvaTrade Withdrawal Methods
Here is a summary of payment methods for withdrawals accepted on AvaTrade.
| Withdrawal Methods | Availability | Charges | Processing time |
| --- | --- | --- | --- |
| Local Bank Wire Transfer | Yes | Free | up to 10 business days |
| Cards | Yes | Free | 24-48 hours |
| E-wallets | Yes (Skrill, Neteller) | Free | 24-48 hours |
What is the Minimum deposit for AvaTrade?
AvaTrade's minimum deposit is R1,950 or 100 units of USD, EUR, GBP, and CHF if they are your base account currency for all payment methods.
For faster bank transfer processing, you can contact support with your proof of payment.
When you deposit for the first time with a card, it can take up to 24 hours to be credited due to security checks.
How do I deposit money to AvaTrade?
Step 1) log in to your account by going to www.avatrade.co.za, then click on Login
Step 2) On the left side menu bar, click 'Deposits', then click 'Fund Your Account and select a deposit method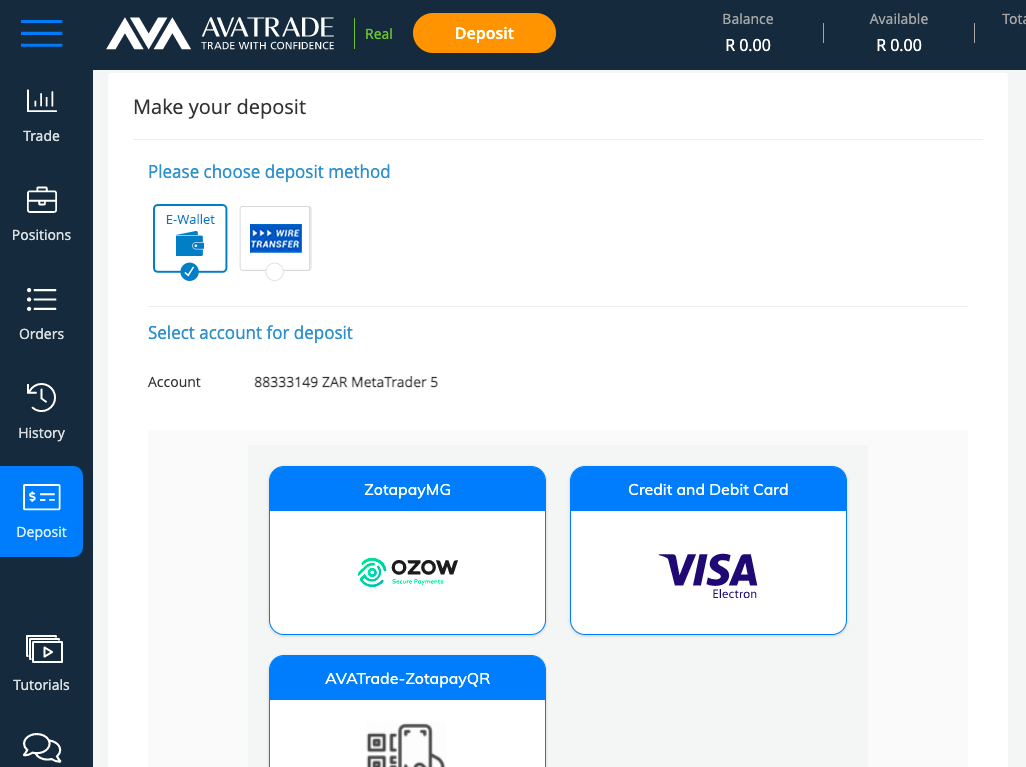 Step 3) Enter the amount you want to deposit then click on 'Deposit', then follow the on-screen instructions to complete the deposit.
What is AvaTrade Minimum withdrawal?
On AvaTrade, there is a minimum withdrawal amount of $100 in ZAR for wire transfers and $1 in ZAR for cards and e-wallets.
How do I withdraw from AvaTrade?
To withdraw your money from AvaTrade;
Step 1) log in to your account via myvip.avatrade.co.uk.
Step 2) Go to the Withdraw Funds section and select a payment method.
Step 3) Enter the amount you want to withdraw, fill out the required details then click on 'Submit', then follow the on-screen instructions to complete the withdrawal request on AvaTrade.
AvaTrade Trading Instruments
Below are financial instruments that can be traded on AvaTrade
| Instrument | Availability | Number |
| --- | --- | --- |
| Forex | Yes | 53 currency pairs on AvaTrade |
| Commodities | Yes | 18 spot commodities on AvaTrade (Metals, Oil, Energies, Cocoa, and others) |
| FX Options | Yes | 44 pairs of FX Options on AvaTrade |
| Indices | Yes | 31 spot indices on AvaTrade |
| ETFs | Yes | 61 ETFs on AvaTrade |
| Bonds | Yes | 2 Bonds on AvaTrade (Euro-Bund and Japan Govt Bond) |
| Stocks | Yes | 612 stocks on AvaTrade |
| Cryptocurrencies | Yes | 20 cryptocurrency pairs on AvaTrade |
AvaTrade Trading Platforms
AvaTrade supports the following trading platforms:
1) MetaTrader 4 and MetaTrader 5: AvaTrade offers MT4 & MT5 trading applications that can be accessed on the web, desktop, and mobile devices (Android & iOS).
2) AvaTrade WebTrader: AvaTrade also offers its clients a proprietary web-based trading application, the AvaTrade WebTrader.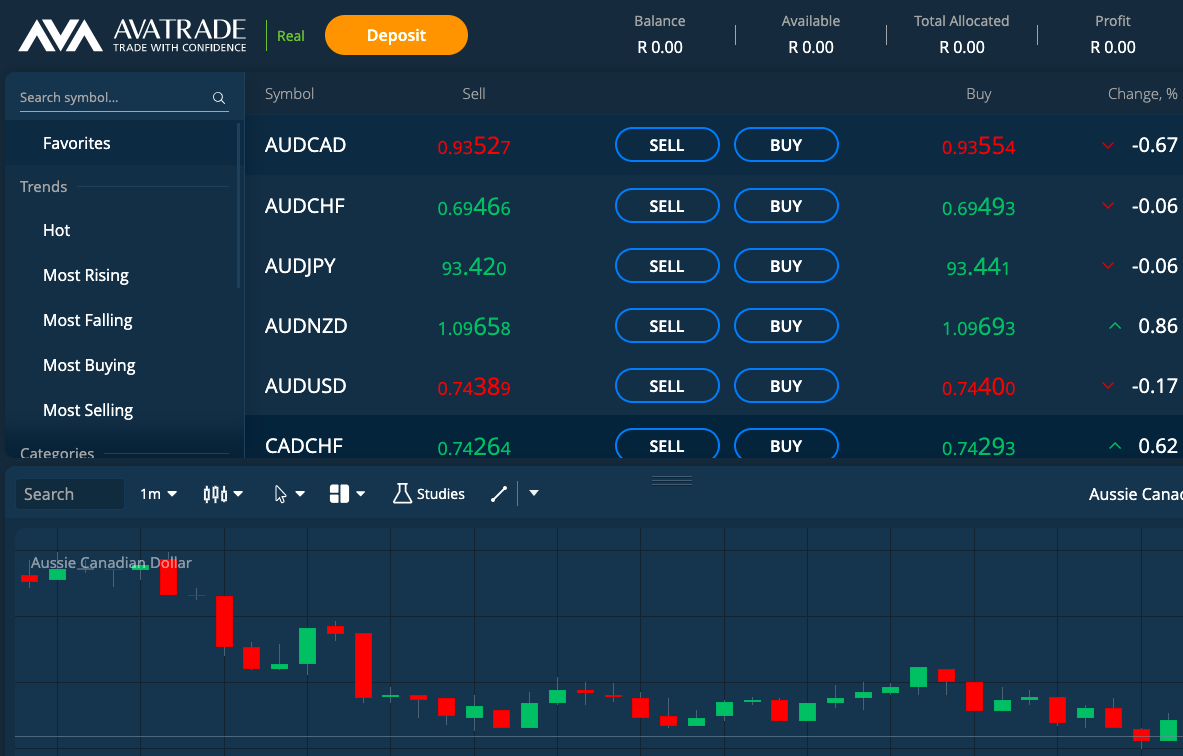 3) AvaTradeGo: AvaTradeGo is AvaTrade's mobile trading application, available on both the App Store and Google Play Store.
4) AvaSocial: AvaSocial is a trading application by AvaTrade that lets you access the strategies of experts and successful traders. It is basically for copy trading. You can download AvaSocial App on Google Play Store or Apple App Store. It is available on mobile phones alone.
AvaTrade Execution Policy
AvaTrade is a market maker. This is evidenced by their fixed spreads and in-house dealing desk. They determine the bid-ask prices of the CFDs they offer and fulfill all of your trades for you.
In a review of their legal document, we observe that there might be cases of delayed connectivity and latency. If the prices displayed during this delay are favorable to you, AvaTrade can block the trade, void it, revoke your profits or even widen the spread after you have placed the trade.
In addition, there are also price requotes. According to the document, if the initial bid-ask price offered to you does not reflect the 'fair' market rate, AvaTrade at their sole discretion can choose not to execute your order. Instead, they send you an amended quote for your consideration.
Furthermore, the document states that your Limit Orders will not be executed if the price moves to your advantage. This means AvaTrade does not have a system that seeks the best prices for traders.
AvaTrade Education and Research
You can learn with AvaTrade in the following ways.
1. Demo Account: AvaTrade offers a free demo account with no risk. You can use the demo account for learning and practice. However, AvaTrade's demo account has a downside. The demo account expires after three weeks. You will have to add another demo account. With this, it becomes difficult for traders to track their progress long-term.
2. Trading Videos: AvaTrade's videos are extensive and structured well for traders to understand. Tutorials on trading platforms, currency pair trading, commodities trading, and stock trading are covered. Another important topic covered in this section is 'stock market fundamentals'. This is key to understanding what moves the shares CFD market.
3. Educational Articles: These are extra articles for traders' learning. They include random topics like trading rules, market terms, order types, etc.
AvaTrade South Africa Customer Service
Avatrade customer support is available Monday through Friday via the following channels:
1) Live chat support: AvaTrade offers live chat support to traders via the website. The chatbot – AvaGuide – is available 24/5, but live agents are only available from 5:00 to 21:00 GMT, Monday to Friday.
The chatbot can answer a lot of questions about AvaTrade platforms, deposits/withdrawals, and more by prompting you with options when you ask a question.
In order to chat with a live agent, just send 'chat agent' as a message and the bot will give you a couple of options. Select 'Chat With An Agent' and it will take you to a live chat session. You will need to submit your email address and name for this.
The AvaTrade live chat customer support for us was prompt when we tested it, with a response time of about 1 minute. The answers provided were both accurate and relevant.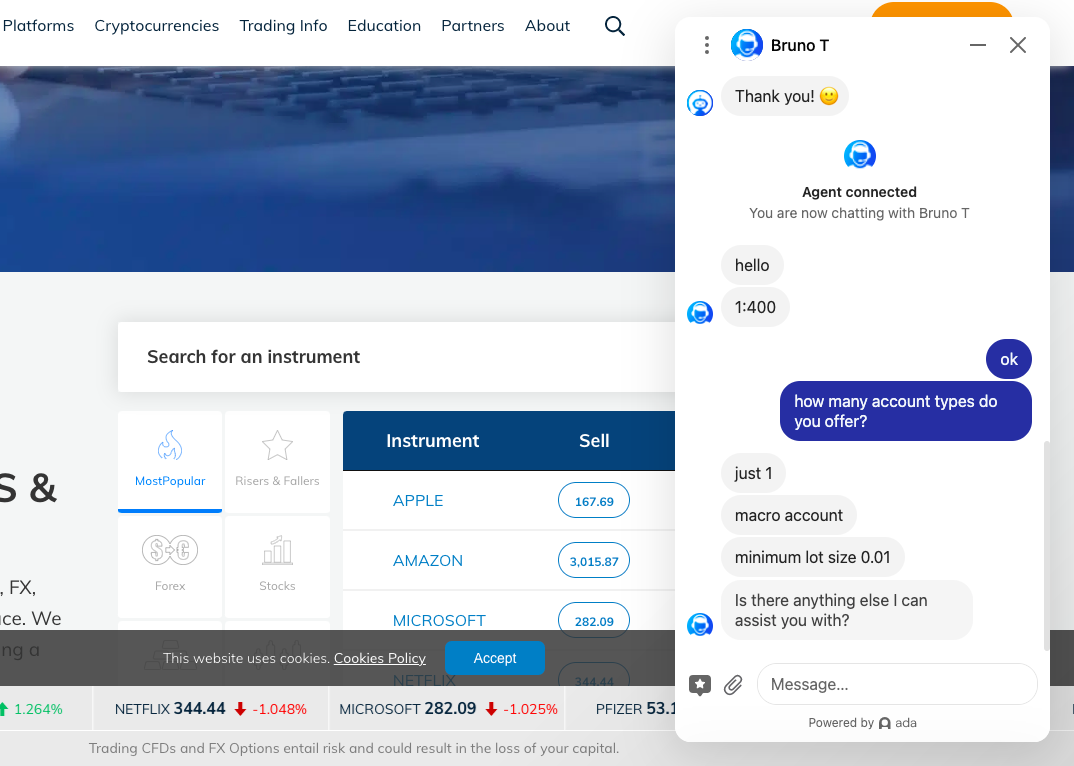 2) Email support: AvaTrade offers email support during business days, so you can send them an inquiry through their contact us form on their website.
When we sent an inquiry through the form, we got no response. But you can send a direct email to the AvaTrade email address at [email protected].
When our team tested by sending a direct email, we got an auto-generated email acknowledging receipts of our inquiry and a support representative replied within 30 minutes.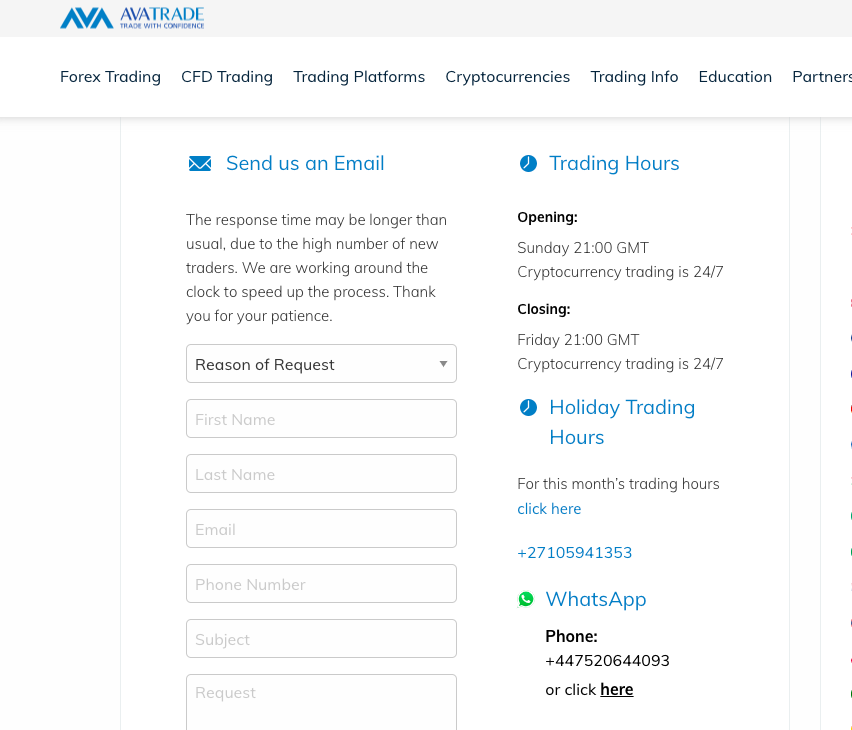 3) Phone support: AvaTrade offers phone support to traders on the platform in different countries. The phone support is available during business hours from Mondays to Fridays. The AvaTrade South Africa support phone number is +27105941353.
To reach AvaTrade WhatsApp support, you can send a message to the following number: +447520644093.
4) Physical Office: AvaTrade has an office in South Africa located at Nelson Mandela Square Office towers West, 2nd Floor, Sandton Johannesburg. Although the office is not open for clients to visit. All clients' inquiries are made online.
AvaTrade South Africa Bonus
AvaTrade first deposit bonus: AvaTrade offers a bonus to new traders in South Africa on their first deposit of over $200 or equivalent in ZAR during the promotion. A 20% bonus will be credited to your trading account once you've made your first deposit and your account is verified.
Note that this bonus is only available if your base account currency is in EUR, GBP, or USD.
Do we Recommend AvaTrade South Africa?
Based on the safety of traders' funds, we consider AvaTrade to be low risk because they are regulated by the FSCA in South Africa. They are also regulated by ASIC & FCA which are a Tier-1 financial regulator, as well as other Top-Tier regulators like FCA, CySEC, ISA, and FRSA.
The fees on AvaTrader are moderate, with spreads starting from 0.9 pips for major currencies and the broker charges no trading fees for currency pairs. AvaTrade supports trading on many platforms, including web browsers and mobile devices, which makes it easy to create an account and make trades.
Customer support at AvaTrade is not so good, while their live chat has very little wait time, they cannot be reached 24 hours a day, which means that if you ever need to contact customer support, you may be waiting a while to get assistance. There are brokers who offer 24/7 customer support.
We recommend that you check out AvaTrade website to see the specific instruments they have and even chat with customer support and ask any questions you might have to help you make up your mind.
AvaTrade South Africa FAQs
Is AvaTrade regulated in South Africa?
AvaTrade is regulated in South Africa as Ava Capital Markets (Pty) Ltd with FSP number 45984 and authorised to offer financial services.
How long do AvaTrade withdrawals take?
It takes up to 24-48 hours for you to receive the funds withdrawn to your credit/debit cards and e-wallets, and up to 10 business days for a wire transfer to your bank account.
Does AvaTrade have a ZAR account?
AvaTrade offers ZAR account currency. While signing up for an AvaTrade account, you can select South Africa Rand (ZAR) as the base currency on your account, and all your trades, deposits, and withdrawals will be measured in this currency.
Is AvaTrade good for beginners?
AvaTrade offers a Demo Account for new and prospective traders to try out the platform and its features.
The broker offers commission-free on all instruments along with competitive spreads which means low trading fees
AvaTrade's negative balance protection means that traders do not lose more than the money in their account, making the broker a good choice for beginners. You can read our review of AvaTrade to know more about the broker.
Visit
Note: Your capital is at risk
Note: We may earn a commission if you decide to sign up with the broker via the referral links in this review. This help us cover the expenses of running this website, but this does not affect our honest & transparent review process. Thanks for your support.